Winter storms and slashed budgets combined with a lack of skills and awareness are leading to needless deaths in forestry and arboriculture.
Summary
Between December 2020 and February 2022, 11 deaths were recorded in the UK arboriculture and forestry sector, according to initial notifications from the Forest Industry Safety Accord (FISA, 2022). Falling trees or branches killed nine people; one death involved an overhead power line, and another died using a log-splitting machine.
FISA is a coalition of representatives from leading industry organisations and is determined to raise the standard of health, safety and welfare in the forestry industry. FISA chief executive Gillian Clark says winter storms that topple trees onto power lines are a major challenge. The agricultural sector is also affected, she says. 'Farmers may be trying to clear trees when they have their spring turnout for livestock, for example. The last thing we need is for them to have a go at felling windblown trees.' Compounding these hazards, budgets have been slashed in many industries and local authorities. 'A lot of day-to-day maintenance just isn't happening,' Gillian says.
The issue in forestry
Tina Morgan, chair of the IOSH Rural Industries Group, says part of the problem is that tree work is not exclusively carried by forestry operators and contractors. 'Industries where these are not a business's main activities often have accidents as the work is not carried out frequently and is often thought to be "only a quick job",' she says. 'Planning and proper preparation for this type of work is essential.' She also highlights additional issues such as hand-arm vibration syndrome, asthma (from inhalation of wood dust), dermatitis (from chainsaw fuel and mechanical lubricants) and noise-induced hearing loss.
HM inspector of health and safety Christopher Maher GradIOSH leads on arboriculture at the Health and Safety Executive (HSE). People often fail to appreciate that risk assessments must be site- and tree-specific, he says. 'It can't be generic. Each tree and site present different risks and could react differently in certain circumstances.'
The Key
The key is to avoid putting people at risk and put in place the right controls, as well as to record your thought process. 'There's often the temptation to view an incident as an unfortunate accident,' says Christopher. 'But when you take a step back, if a chainsaw operator had been driving an excavator with a grapple saw when the tree fell, they'd most likely be alive. That's why the planning is so important.'
Storms are one of many challenges faced in forestry and arboriculture. Max McLaughlan, head of land management (north district) at Forestry England, explains why. 'Windblow is a normal part of any forest, but we saw things on a different scale towards the end of 2021. UK forests tend to be resilient to south-westerly winds. Storm Arwen caused 70mph northerly winds. The trees weren't resilient to it.'
Although a relatively small proportion of forest was affected (around 2% to 4% in Scotland, Max says), the impact shouldn't be underestimated. 'Windblown timber is a different proposition to standing timber. When trees are on their side, you need bigger equipment to deal with that prospect safely. There is also usually quite a lot of chainsaw work, which affects safety,' Max adds.
Gillian highlights the dangers. 'Winter storms leave a lot of windblown, snapped and hung-up trees. Many will be under tension and spring violently when released by cutting. Chainsaw operators may also be at risk of being crushed by the root plate.'
Storms bringing down trees
Winter storms brought down more than eight million trees in the UK (Marshall, 2022) and storms Dudley, Eunice and Franklin in February 2022 caused more damage. 'Working in these conditions must only be undertaken by people with a number of years' experience and exposure to these situations,' says Gillian. 'We routinely get calls from people saying they've got this kind of tree and where can they find a training course. Effectively, they're wanting to tackle the worst possible trees with virtually no experience.'
Clare James, head of health, safety and technical training at Forestry England, agrees: 'One of the big factors is not using the correct equipment. Improvising with available kit, rather than using the right tool for the job, can get people into trouble. Another critical factor in remote locations is that there's typically a lack of phone signal and challenges in getting emergency services to the scene.'
Tree work is not something that Graham Barton takes lightly. In part, this is because he can still recall vividly what happened when he was just 19.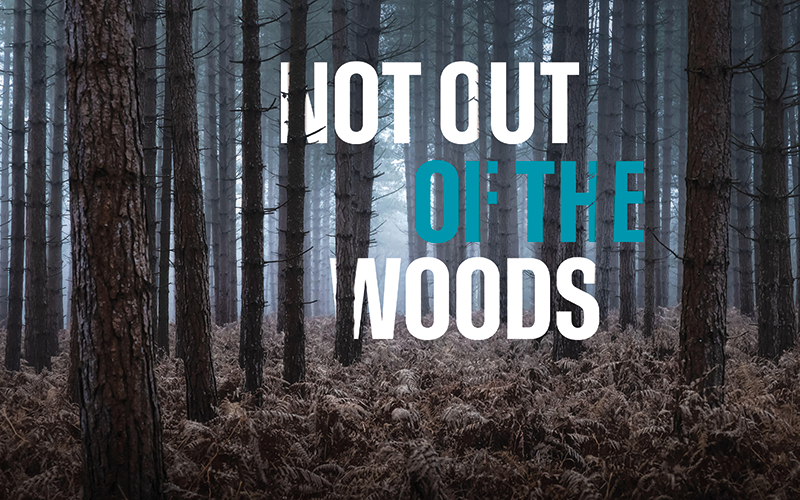 Recollection of forestry
'I was 20 feet [six metres] up in the air reducing the height of a conifer hedge,' he says. He was attached to the tree by a strop attached to his harness and secured around the main stem of the tree. His feet were either side of the stem on two lateral branches.
'I had felled the top of the tree and was tidying up the felling cut with a small chainsaw when the branch supporting my left foot snapped. It all happened quickly, but I must have moved my left hand from the chainsaw handle. The saw passed across the inside of my left wrist gouging out flesh and severing five tendons. A two-hour operation, 42 surface stitches and a bit of physio later, I was very lucky to have a fully functioning left hand,' he says.
Graham is now health, safety and compliance manager for UK Power Networks (UKPN), which maintains the electrical network in East Anglia and south-east England. 'We use 11 principal contractors and a small group of directly employed tree cutters. Around 300 people are involved in tree work. We carry out risk-based maintenance, network resilience work, and advise on and assist customer requests in relation to trees,' says Graham.
UKPN arborists are trained in felling, processing, climbing and pruning. These are complemented by specialist qualifications developed by the electrical and arboricultural governing bodies. Compliance and knowledge of policies and procedures is reviewed in biannual safety audits, where auditors observe a team over the course of a day.
'Apart from the usual slips, trips and falls, the biggest hazards are falls from height, contact with machinery (chainsaws), musculoskeletal injuries, personal complacency and the formation of bad habits. We look for those things, but also praise innovation and best practice,' says Graham. 'We record findings honestly, and don't look to embarrass or discipline people, but rather to coach and challenge teams to maintain safety standards.'