Occupational Health & Safety
Management System
If you want to ensure your business has the right health and safety procedures in place, so that your staff and visitors are safe, then you have come to the right place.
When your business holds ISO 45001 certification, you demonstrate to your stakeholders that you have a safe working environment.
How can ISO 45001 certification benefit you?
Using our knowledge of ISO 45001, we take a step by step approach, supporting you through the entire process of gaining certification, as well as making sure we have a sound understanding of your business. This allows us to identify potential health and safety risks, develop policies and procedures to counteract them and ensure that ISO 45001 best practice is maintained throughout your business. 
Streamlined and compatible health and safety management systems ensure your customers can put their trust in your business by demonstrating a safe working environment.
Don't just take our word for it,
here's what some of our clients have to say about us
We started working with Synergos in early 2018 and they supported us through successfully implementing ISO 9001:2015 Quality Management System. The service provided was of such a high standard that we instructed Synergos to support us through the successful implementation of ISO 14001:2015 Environmental Management System and ISO 45001:2018 Occupational Health & Safety Management System. We have always found the team at Synergos to be extremely knowledgeable, professional, helpful and friendly and I would most certainly recommend them to anybody who requires support with implementing any of the ISO standards. Implementing an Integrated Management System has provided us with many tangible benefits, including tendering for new business and standardisation of the service we offer our customers.

Synergos Consultancy provided outstanding support throughout the ISO project (14001, 9001 & 45001), ensuring all areas were covered; there was full support along the way, ensuring all areas were covered, the process was straight froward and any stress was removed. We were working through the project during COVID-19 pandemic, there was no change in the relationship between us even with the challenge of remote working. Synergos Consultancy Ltd took on the brunt of the work, including preparation and guidance. The certification will have a huge impact on the way Ideal Modular Homes does business.

You Can Put Your Trust in Our Team
You can put your trust in us, as we've worked hard to build a solid reputation helping clients like you achieve their business goals. Working across a wide range of business sectors, we collaborate with you to ensure a great outcome for everyone.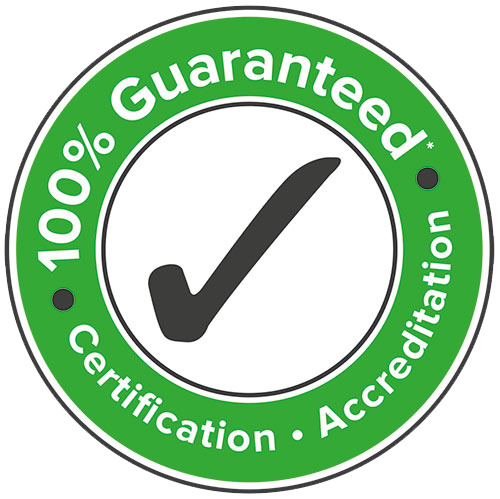 We guarantee*
we will get you through the certification/accreditation process or we will refund 100% of all monies paid to Synergos Consultancy.
*subject to our terms and conditions
It's time to improve your business opportunities
Let us help you to achieve ISO 45001 within a matter of weeks.

ISO 27001 sets the standard for Information Security Management Systems
(ISMS)

ISO 22301 sets the standard for Business Continuity Management Systems
(BCMS)