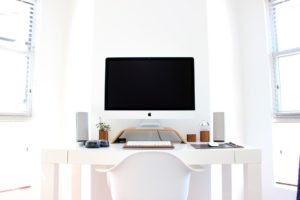 Modern workplaces can be stressful, a common concern for many employers and employees. A risk assessment of a workstation is an activity employers should schedule on a regular basis.
What regulations do you need to bear in mind?
For employees working on PCs for any length of time, there are many regulations in place to minimise the risk from display screen equipment. The Display Screen Equipment (DSE) regulations are just one set that you may need to consult when completing workstation risk assessments.
There are other regulations concerning health and safety but in the main, at the heart of any risk assessment is the understanding of how well the workstation supports the employee to do their job. You need to consider how safe it is, what hazards are present and the level of risk they present, as well as what further training could be of benefit to the employee.
In effect, there are five factors an employer must take into account when assessing workstations;
Computers – if employees work for periods of time on PCs, laptops and other equipment with display screens, the use and working practices around them must be assessed.
Environment – likewise, as an employer you are expected to assess whether the workstation is suitable, the environment around it and the software used.
Minimise health risks – every employer is expected to assess and take action to provide workstations that minimise the health risks to working.
Action – for people working continually at a PC or similar, the employer is expected to be proactive in helping workers to protect their eyes. Provision of eye tests and equipment to minimise glare and so on are all actions that could be taken. Rest breaks away from screens is also a requirement but, with the pressures of work, is this happening?
Training – health and safety does not stand still, it is constantly evolving and changing as the work environment changes. Training needs to be provided and updated on a regular basis.
Follow the health and safety steps
No matter where you are risk assessing, these five steps are part of ensuring every aspect is assessed, hazards identified and so on. It applies to workstation risk assessments too.
Here's how to get it right;
Hazards – start by identifying hazards. These can be environmental, as well as chemical, biological, physical and in the case of workstations in particular, ergonomic.
Who? – once you have identified the hazards at and around the workstation, you need to determine who could be harmed.
Evaluate – with hazards identified, you need to decide the level of risk each would pose to the people you have identified. With hazards and risks identified, precautions need to be identified and taken.
Action – record the risk assessment, hazards and risks, as well as what action will and has been taken
Review – and finally, decide the right time that this risk assessment will be reviewed and updated.
When was the last time workstations were risk assessed at your place of work?
How can we help you?
If you are in need of assistance with any aspect of Health and Safety management, here at Synergos we'd be delighted to help. Whether you have questions or are looking for advice and support to maintain standards, call 01484 666160 or Email info@synergosconsultancy.co.uk and we'll be happy to talk it over with you.