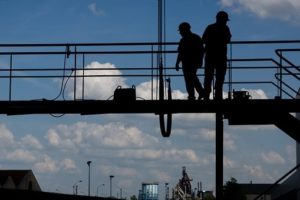 Working at height is something that thousands of workers do every day across the country. The majority of companies and workers take working at height seriously, but accidents still happen. What precautions need to be taken?
What is 'working at height'?
When we see this phrase, our first thoughts are working several meters off the ground, clipped on with harnesses. We also think of scaffolding, platforms and ladders.
Working at height is not defined by height but by whether someone could suffer an injury, or worse if they fell from that height.
It means, therefore, working above ground level at a height that requires extra precautions to prevent falls.
Assessing, planning and acting to minimise risk
Employers and staff working at height are expected to take precautions against falling from a height.
Companies who undertake CHAS certification or accreditation will have a deeper understanding of how this works, one of the many reasons why a company whose workers are expected to work at height will seek CHAS accreditation.
A job that involves working above ground level will require careful advance planning. It must also be supervised and carried out safely by competent workers.
It starts with a thorough risk assessment, highlighting hazards and risks. Once these have been identified, appropriate controls must be put in place.
As part of this process, emergency planning must be considered too. It is important for everyone to appreciate the risks of working at height and what happens should there be an emergency situation.
Scaffolding, platforms and ladders
Some companies prefer their staff who work regularly at height to do so wearing harnesses as an extra precaution. For some, it is essential considering how far off the ground they work.
In other situations, using some kind of elevated platform is preferable. Again, as part of a risk assessment of an assignment to be carried out at height, the safest method of doing so should be identified.
In the case of scaffolding, it should be erected and regularly inspected by a competent contractor – look for the CHAS symbol.
In terms of platforms and ladders, they should be placed on solid, secure and level ground. There should also be consideration given to other additional measures too including guardrails, toe boards and so on.
Trained and experienced workers
Falls do happen, resulting in life-changing injuries for some workers. There are also rare cases of fatalities too.
Even though the hierarchy of controls over working at height have made a huge difference to prevent falls from height, the fact that it still happens is something everyone needs to remember.
Workers who are inexperienced and not trained in working safely at height are more likely statistically to fall or be injured than those who are trained and experienced.
The key points
Working at height should be planned carefully
Risk assessment must identify hazards and risks, and include an emergency response plan
Scaffolding and other working at height platforms must be erected and inspected by 'competent persons'
Workers need to be trained, experienced and supervised when working at height.
CHAS is a scheme that helps to make working at height safer. Is it something you should consider?
How can we help you?
Click here to download our NEW FREE eBook, informing you of the benefits of CHAS to your business.
If you're in need of assistance with any aspect of this accreditation here at Synergos we'd be delighted to help, call 01484 817 444 or Email info@synergosconsultancy.co.uk and we'll be happy to talk it over with you.