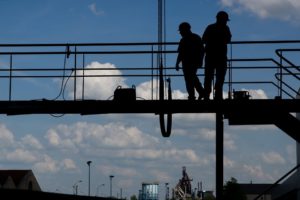 Working at height is something that many workers do day in and day out. Whilst many of these projects are concluded without issue, falling from a height is still one of the most likely ways for someone to be hurt at work or worse, to lose their life. Can you make working at height safer on your site?
Three simple steps
Working at height is a hazard and the level of risk needs to be assessed. There are many factors that come into play such as the height of the task, duration and frequency. There is also the condition of the surface being worked that needs to be considered too.
BEFORE working at height, there are three simple steps that need to be taken;
AVOID working at height where it is reasonable not to – in other words, if you can complete the task without working above ground level, take that option if you can.
Use what you are familiar with – and use equipment that you are familiar with using. This is addressed by training, matched by experience and supervision too.
Minimise the distance – the higher someone works, the less likely they are to survive a fall. Where possible, you need to minimise the distance should a fall happen.
Collective Protection and Personal Protection
As you walk through these three steps, consideration must also be given to protect everyone at risk – known as collective protection – and then consider the measures that protect the individual, the personal protection part of the process.
Collective protection considers the use of equipment, such as permanent or temporary handrails, tower scaffolds and similar.
Personal protection is the equipment that someone uses to be able to work effectively and safely at height. For example, putting on a safety harness correctly, connecting, with a suitable energy-absorbing lanyard and anchor point, all of which are covered in rope access solutions training.
Do's and don'ts of working at height
Do as much work as possible at or from ground level
Safe access for workers performing tasks at height is essential
Equipment must be suitable, well maintained, regularly checked and strong enough for the task in hand
Extra precautions need to be taken around fragile surfaces
Falling objects pose a serious risk to public and employees, do put in safeguards for when or if this happens
Consider emergency evacuation procedures and processes, as well as the rescue procedure
Ladders and step ladders are not always the most suitable pieces of equipment for accessing platforms, consider alternatives
If using ladders, are they being used correctly?
Weight is an important issue when accessing platforms above ground level – workers shouldn't be overloaded carrying equipment
Reduce the amount of time that ladders are used – the constant up and down motion is fatiguing, something that contributes to many falls and accidents
Training, competency and experience of working at height are key – inexperienced workers need close supervision, as well as suitable training.
How can we help you?
If you are in need of assistance with any aspect of Health and Safety management, here at Synergos we'd be delighted to help. Whether you have questions or are looking for advice and support to maintain standards, call 01484 666160 or Email info@synergosconsultancy.co.uk and we'll be happy to talk it over with you.