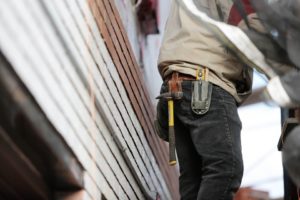 Health and safety is no longer a tick box exercise or a task that 'gets in the way'. It is not an integral process of ALL business and this is why CHAS is something you really need to care about.
Without it, doors will close
Whether you are winning small contracts from smaller firms or wanting to grab at some of the more lucrative tendering opportunities with private and public sector bodies, you will find that after a certain point, doors won't open without CHAS.
Health and safety is an important consideration and even though you Do take it seriously, and you DO have stringent processes and policies in place, unless your best health and safety practice can be measured against a benchmark, your seriousness as a contender for the big contracts melts away.
In other words, grab CHAS accreditation and show potential clients that you have the ability to meet standards, even if you currently exceed them.
Reduce paperwork
So, you have health and safety policies, you have the documentation and each and every time you complete a pre-qualification questionnaire, you have to say the same thing, attach the same document…
It is tiresome and time-consuming. But there is another way.
With CHAS certification, you simply show people that yes, you have all the policies in place, the boxes are ticked, you meet a high standard of health and safety practice and so on.
Tendering for work will take time but shouldn't take an age. And it isn't a case of pushing health and safety aside by wafting a certificate around, but more an opportunity to standardise your practice and policies so that everyone sees the same value that you do.
You really need to be H&S compliant AND show it
From insurers to attracting new staff, to tendering for work to winning new clients, there are times when professional accreditations speak volumes.
The days of 'hoping' that everyone goes home safe after a day's work are gone. Employers are expected to take the health and safety, including the physical and emotional well-being of their employees seriously.
No longer a tick box exercise, CHAS accreditation is a sure-fire way of showing everyone that you are not only a safe contractor, but you practice what you preach.
Your business practices improve overall
Health and safety is about communication, as much as it is about spotting and dealing with hazards and risks.
Which company could say that they don't need to improve on communication? Accreditation processes like CHAS may be focussed on certain key aspects like health and safety but during the process, they touch on other areas of business practice too.
And with CHAS, the key business process is communication. In other words, there is so much you could learn about your business and how it does things, as well as how tweaking some of these processes could lead to your business being even more responsive in a competitive marketplace.
Can you do without it?
We think not, but there are, we know, other health and safety schemes out there that may be more suited to your business.
But the key message is clear: to be serious about health and safety, you need to be serious about CHAS.
How can we help you?
Click here to download our NEW FREE eBook, informing you of the benefits of CHAS to your business.
If you're in need of assistance with any aspect of this accreditation here at Synergos we'd be delighted to help, call 01484 817 444 or Email info@synergosconsultancy.co.uk and we'll be happy to talk it over with you.