When it comes to AEO certification, it's not all about the financial and customs declarations side of things. Whether you're looking at AEO as a forwarder or an importer/exporter, the security of your operation needs to be scrutinised too. This leaves many people worried about how best to go abut evaluating their readiness for application, but there's one simple tool that can really help you get a handle on where you're compliant and where you may be able to improve, and that's the process flow chart.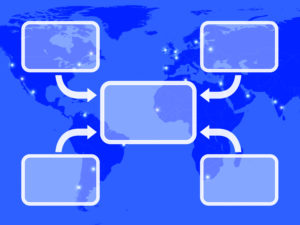 From top to bottom there are likely to be numerous processes that go on within your business, and putting these processes down on paper is essential to being able to correctly evaluate your business. For example, the flow of goods throughout your business as a manufacturer/exporter is paramount to seeing where they may be gaps in your security. So, how should you go about it?
Putting the process down on paper
Where there are many different facets of one process, you'll need to speak to each and every member of the team involved to ascertain which part of which processes they're involved in and how they go about completing them. For example, a simple flow of goods may look something like the below:
Receipt of goods from manufacturer > booking in process > checking and repackaging > labelling and shipment paperwork> booking carrier> signing out to carrier
Whilst this looks pretty simple and straightforward, there will be much more detail needed as to how the receipt of goods is handled (i.e., do you check the number of packages, check for damage or pilferage etc) and indeed, all the other processes within this simple flow to work out where any breaches of security might occur.
Drawing up a process flow for each individual process within the flow of goods is a great way to not only make sure all your employees know what order tasks should be performed in, but you also then have written procedures in place to show HMRC when they come to complete the security part of your AEO audit. More importantly, it will help you see any possible breaches of security, allowing you to take action to improve the security of your supply chain.
Spotting breaches
In order to test the security of your internal controls to protect your supply chain, it's essential you try and put yourself in the position of someone that would take advantage of any breaches, or find a third party that can act as a fresh pair of eyes and question your supply chain from a different perspective. This will also give you good practice for the kind of questions HMRC may ask you. Test your internal security controls, audit your compliance with the process flows you have developed, and tweak the processes within to secure your internal controls, and not only will you have more to show HMRC in regards to your AEO compliance, you'll be safe in the knowledge that you're doing everything you can to protect your supply chain.
If you'd like a fresh pair of eyes on your AEO application, or would like to take advantage of our AEO application service, enabling you to get on with the day to day running of your business, whilst we evaluate and work with you to get that all important AEO certification, then simply call us on 01484 817 444 or email info@synergosconsultancy.co.uk and we'll be happy to talk you through our services.