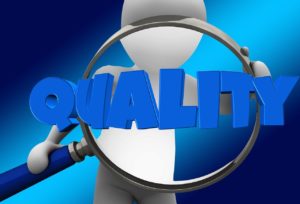 Quality assurance (QA) is important in any field, sector or industry. It is the process of producing a product or services whilst avoiding errors that compromise the quality of it.
Check out these 10 facts about QA and ISO 9001:2015 – how many did you know already?
1 QA originates in World War II
The history of QA is rooted in WWII when ammunition was tested for performance.
2 QA transcends all sectors and industries
We often associate quality assurance activities with technical sectors but it is a process that is applied across all fields and sectors, from banking to education, software and consulting.
3 QA should be systematic
Assuring quality of products and services can be a complex process and requires a systematic approach. This approach will change dependant on the sector and the field.
4 Testing and monitoring is important
The process of ISO 9001:2015 highlights the need not only for a systematic approach, but for one that constantly evolves and changes as the product and business changes. Testing your products for quality is key.
5 Customers and partners need to know you have a QA process
ISO 9001:2015 is an important feather in your business cap. For consumers and trade partners, from the domestic markets to the global stage, need to know that you are serious about the quality of your product – and improving it too. Having ISO 9001:2015 is proof enough that you are a business with serious intentions.
6 Consumer demands are increasing
There are many demands on producers which is why the ISO 9000 family of standards were published in 1987. It was recognised that a quality assurance system was an important element for any business to develop to show that their products and services would live up to growing consumer demands and expectations.
7 It highlights commitment to the principle of excellence
This is the principle by which a company will test and re-test products and processes for faults, as well as possibly create a fault to see how the QA process identifies it and rectifies it. It is only when a company shows it can identify and correct QA issues that ISO 9001:2015 is awarded.
8 It needs to be a streamlined process
QA can be complex and cumbersome which is why ISO 9001:2015 is a great solution. As part of the accreditation process, duplicate parts of the process will be identified, shortcomings addressed and a more streamlined process created.
9 It can save money too
An overly cumbersome process can waste time, effort, resources and money. With ISO 9001:2015, it can be a process that improves your bottom line, always a welcome benefit.
10 QA MUST be documented
Part of any QA process should be the documenting of a QA policy, testing process, what happens when parts of the link fail and so on. Without it, the comprehensive ISO 9001:2015 will elude a business.
How can we help you?
Click here to download our new eBook, which will give you an overview of the ISO standard and the FAQs that will help you understand ISO better.
If you're in need of assistance with any aspect of certification, here at Synergos we'd be delighted to help. Whether you have questions about the path to certification or are looking for advice and support to maintain an existing standard call 01484 817 444 or Email info@synergosconsultancy.co.uk and we'll be happy to talk it over with you.