Here at Synergos, our portfolio of services is ever growing and we're happy to be able to offer businesses of any size a solution to their process needs. Although we started as an ISO consultancy, we've branched out into business process management as it complements what we do already, and we have a vast amount of experience in working out how business work, and how they could work better.
Why are a company's processes so important?
When it comes to doing business, being organised is a must, and whether you run a beauty salon, a web design company or manufacturer there will be processes and systems within successful companies that you would do well to emulate, if you want to achieve business success. Process management consultants aim to enhance business operations continuously encouraging adaptability, and embracing modern innovation as opposed to the traditional business paradigms that are more functionally dependent and focused on hierarchical management.  Consultants can help a business streamline all the aspects of a business' operations; starting from the planning stage, through to execution stage and the very necessary evaluation and process optimisation.
A fresh pair of eyes on your business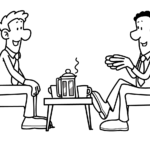 In every business, there are common business processes that are designed to meet certain objectives. But for a variety of reasons, some of the processes might be slow, redundant, inefficient, unreliable or duplicative. A consultant can put all these processes under fresh scrutiny using models, analysis and metrics so as to make evaluations, and identify the improvements needed to produce much better performance.
Their ability to plan
In today's economy, business leaders and managers are under a lot of pressure to decrease costs, remain competitive, and increase productivity. Due to these challenges, savvy businesses know they need to look at the business processes in order to do so, but having time to look at every process within a business is almost impossible. This is another reason consultants are brought in, not only to look over the current workings of a business with fresh eyes, but to take the time to come up with a plan for enhanced operational efficiency, better customer service and service and product innovation.
To help businesses go further
In today's competitive business world, the need for businesses to be agile is more crucial than ever before, and those whose processes are inflexible to change are likely to be left behind. New opportunities might necessitate changes in order for a business to fully capitalise on them, such as accreditations including ISO and AEO. In addition to providing the tool needed for a business to grow, important parts within the business, such as Health and Safety needs will change as the business grows, and some process management consultancies (Synergos included) are able to offer support to business' as they grow so that their processes and systems grow with them.
Simply put, process management consultants enable businesses to work more efficiently, with much higher quality, less effort and less waste. If you'd like to explore the benefits of having Synergos take charge of your business processes, accreditations, or even your Health and Safety, we're ready and waiting to help you do business better.  You can reach us on 01484 817444 or email us info@synergosconsultancy.co.uk