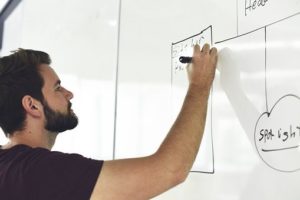 As a start-up or small business, it can feel like you are a very small fish swimming with some very large fish.
Compared to a bigger brand in your industry or sector, you don't have the budget nor the resources to be able to make a big splash that puts you ahead.
It's not a great place to be… or is it?
Customer attitudes
We assume that customers always turn to big brands because they have the budget to be continually marketing and promoting themselves, and that means the customer finds them first.
This may be the case and for some purchases, the elements of trust and loyalty may play a part. But, customers can view big brands with suspicion.
Their customer service may be accessible but is it personal? Do they listen? Do they act?
In many more cases across all sectors, customers are becoming savvier in their choices and how they get their information, finding that buying from a small business can be beneficial to them, the local economy and the small business too.
Levelling the playing field
So rather than thinking you lag behind the big brands, your small business could actually level its own playing field by highlighting the following;
A more personal customer service
Customer service is not just there for when a customer has a complaint. It may be that they wish to compliment you or your staff, or they may have suggestions on product development and more.
Whereas there may be a 'professional efficiency' to the customer service of a larger brand, are they connecting with people personally?
Improved customer service
As a small business, it may be that your customer service is better than your big brand competitor simply because it is simpler and more responsive.
We often assume that the more complex something is, the better it is. But when it comes to customer service, the opposite is true: when a customer calls, they want to get through to a human voice and not spend time wrapped in the 'press 2 followed by the hash for returns' nightmare.
As a small business, you can keep your eye on the details. Along with offering a superior and personal customer service, the key to many a business's success, you can also keep your eye on the detail.
Up there with the best
There is a way you can truly level the playing field and stand shoulder to shoulder with your big competitors: ISO's.
ISO's are a set of standards that are recognised and valued around the world. It is an accolade, an accreditation and a badge that means something.
For example, if you boast ISO 27001 as well as GDPR compliance, you are showing customers and trade partners (and your competitors!) that you can and do handle, process and store information securely and in line with a stringent set of rules and procedures.
Your ISO accreditation is just as meaningful as the one your biggest competitor parades and that's why, as a small business you need to seriously consider the benefits of ISO accreditation.
How can we help you?
If you're in need of assistance with any aspect of ISO or GDPR compliance, here at Synergos we'd be delighted to help. Whether you have questions about the path to compliance or are looking for advice and support to maintain compliance, call 01484 817 444 or Email info@synergosconsultancy.co.uk and we'll be happy to talk it over with you.