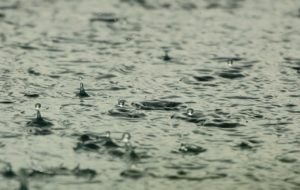 When the heavens open and the rain pours down, staying indoors and waiting for the sun to shine again is not an option across all industries. Sitting out inclement weather could mean a workforce twiddling their thumbs for weeks on end here in the UK with the unpredictability of our weather in all seasons being a significant issue.
But this doesn't mean sending your workforce out into the rain, knee deep in mud and hope for the best. As an employer, you have the responsibility to ensure the safety of all your workforce at all times they are onsite, whether that is right outside your office window or on a remote working site.
Wet weather comes with risks, some of which are deadly. It is not a situation to be underestimated and so planning and preparing for poor, wet weather NOW will significantly reduce risks.
Working in the rain
One of the biggest dangers of wet weather is slips, trips and falls. This is for people working on the ground but clearly, if there are workers working at height, the risks of slipping, tripping and falling in wet weather significantly increase.
There is an adage that tells us there is no such thing as bad weather, but bad clothing. And when it comes to working in the rain or poor weather, this saying certainly holds true.
The Health and Safety Executive (HSE) offers the following advice for working in both wet and chilly weather;
Non-slip shoes and boots – not all shoes and boots are suitable for use in all weathers and in all terrains. Employers should provide workers (if necessary) with the right 'tools' to the do the job and that means non-slip soles on boots and safety shoes that afford more traction and grip in wet weather.
Specialist clothing – workers should also be supplied with the correct clothing. The HSE suggest bulky clothing, such as a well-padded coat that could help to cushion the wearer in the event of a fall.
Stay warm – when the body becomes cold, it causes the mind to lose focus on the task in hand, concentrating instead on maintaining warmth. By dressing correctly, the body remains warm and comfortable. Always make sure you can hear what is going on around you too.
Be extra vigilant – driving in wet weather, for example, requires a higher level of concentration. Working in wet weather requires a heightened sense of awareness too. This means ensuring you can maintain visual contact between you and your colleagues.
Making the work area safe
As well as workers taking extra precautions, there are measures that can be taken to make the work area safe too. What does the HSE suggest?
Slip resistant work surfaces – where possible, work areas should be kitted out with slip resistant surfaces, both externally and internally if possible.
No short cuts across site – workers should stick to designated walkways across a busy site as 'short cuts' can often be across areas that can become slippery when wet. Consider laying new pathways, if needed.
Door canopies – the HSE points out that the majority of people slipping and falling happens as they initially enter a building from the wet outside. Consider a canopy that helps to 'shade' the door way, as well as non-slip matting inside the doorways.
If safety on site is your priority, why not consider CHAS certification for your business – that way, you'll know every member of your team is on the same page about safety, no matter what weather you encounter.
How can we help you?
Click here to download our NEW FREE eBook, informing you of the benefits of CHAS to your business.
If you're in need of assistance with any aspect of this accreditation here at Synergos we'd be delighted to help, call 01484 817 444 or Email info@synergosconsultancy.co.uk and we'll be happy to talk it over with you.