As a freight forwarder, you will understand the need to operate within certain standard, regulations and legalities. Some certifications are legal documents and there are others that are voluntary, but they all show one thing – you are a serious player in the competitive world of export, import and international logistics.
Authorised Economic Operator (AEO)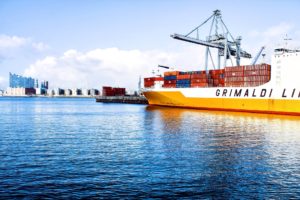 This scheme is borne out of the Union Customs Code (UCC) and has a four-point mission, if you like, for international trade:
To ensure a basis for legitimate trade
Reinforce safety and security
Standardise the applications of custom controls
And provide an electronic environment
Trade across borders has, for too long some would say, been bound by red tape and rubber-stamping. In recent years, security has played a key role in how countries have traded. The need for anti-smuggling measures, as well as measures to combat people-trafficking, terrorist threats and so on has never been more prevalent. By having AEO status, your company shows potential trade partners that you are reliable and trustworthy, as well as operating within EU standards, codes and regulations.
ISO 9001:2015
Continually improving your business needs to be at the heart of it and by meeting the requirement of ISO 9001:2015, this is exactly what you are showing potential partners.
Quality management systems, strong leaderships and continuous improvement are just three factors that will underpin your business and this is what this meeting this standard will show:
Continuous improvement – trade partners will know they are working with a proactive, progressive partner
Leadership – your business has objectives and your management team need to strive to meet these (and then set new ones once achieved!)
Manage both risk and opportunity – weak areas need to be identified and solutions found, just as opportunities need to be found and harnessed
An integrated approach – this latest revision to the standard will ensure that management systems are integrated, leading to a streamlined, responsive business
Dangerous Goods certificate
You may not be shipping or moving these items but by receiving them – even in error, you are taking on a cargo that has more risk than others. Knowing how to store them, how to move them and what to do should there be a spillage or accident are all vitally important.
There are all kinds of different hazardous substances. Some can seem quite inert – until they come in to contact with water, or air or another kind or reactive agent. From oxidising agents, to explosive substances to infectious or radioactive materials, there is a long list of substances that could present a danger and hazard to health. For a trade partner, knowing that the freight forwarding company has the ability and expertise to handle, store and move these items with ease and safety is important.
Holding a Dangerous Goods certificate could also open a new avenue and when the market place and trading conditions are tough, having as many strings to your bow as possible is key in creating a diverse business base.
Whilst we can't offer Dangerous Goods training, at Synergos Consultancy, we know only too well how ISO and AEO certifications can benefit freight forwarders. Why not call us on 01484 817 444 or email info@synergosconsultancy.co.uk to find out more?
Published 22/06/2016