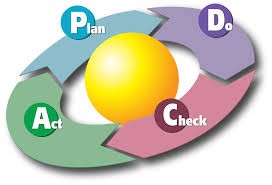 When it comes to health and safety management, many companies work on an 'as it needs to be done' basis, but this often leads to things getting missed, or slipping through the net. By employing the PDCA cycle to your health and safety management, you are less likely to miss anything important, and you can truly say you're doing the best that you can to keep your work premises safe for both customers and staff.
But what is the PDCA Cycle and how does it work?
The PDCA Cycle is an approach that covers all bases. It can be split into 4 Sections (Plan, Do, Check, Act).
Plan
In the planning process (more often than not when you are writing your Health and Safety Policy), you need to consider the following:
What do you currently do with regards to health and safety, and where do you need to improve. You need to not only plan your end goal, which should be minimising risk to as low a level as possible, but also plan how you will get there and how you will measure your success along the way.
Do
This mainly concerns identifying your risks and deciding what you'll do to negate/minimise them. You should also prioritise the biggest risks first. This will require good communication between you and your staff, as they might have ideas or may have noticed risks that you haven't. If you feel that identifying risks is something you'll struggle with, then perhaps as part of 'Do' you can outsource this outside of your business.
Check
Going back to your planning phase, where you planned how to measure success, it is now time to use these plans against what you've done so far. Investigate any near misses, or any accidents and see whether your actions could have been better in order to prevent these near misses or accidents.
Act
This part is all about reviewing what you've done so far and learning from it. If you've had any issues, then go back to your planning stage. Revisit all of your policies and plans to make sure you update them wherever needed.
The PDCA cycle, applied effectively to Health and Safety management, will ensure a process of continuous improvement in health and safety, something that you should always be doing to protect your staff, your customers, and your business.
How can we help you?
If you are in need of assistance with any aspect of Health and Safety management, here at Synergos we'd be delighted to help. Whether you have questions or are looking for advice and support to maintain standards, call 01484 666160 or Email info@synergosconsultancy.co.uk and we'll be happy to talk it over with you.