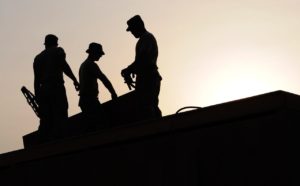 The workplace wasn't always a safe place to be. It was an accepted part of life over the decades that men and women – and children in the times of Industrial Revolution – would not always return from work.
Conditions were harsh and dangerous, accidents and fatalities not uncommon. From the 19th century onwards, there were changes in legislation to make the workplace safer.
Over the years, these pieces of legislation have been improved, all with one aim – to reduce the number of accident and fatalities in the workplace.
Some workplaces remain dangerous places, even with health and safety measures in place. Coal mining, quarrying, construction and chemical works, for example, are all places that are considered dangerous places to work.
Health and safety in such places is stringent, with lapses met with heavy fines and prosecutions.
Is CHAS the answer?
CHAS – the Contractors Health and Safety Assessment Scheme – was created by experienced health and safety professions in 1997, in an effort to improve health and safety standards across the UK.
In partnership with the Association of London Government (ALG), CHAS was a key developer in the core criteria held in the Approved Code of Practice. This code supported the Construction (Design & Management) Regulations 2007, now recognised as CDM 2015.
CHAS is an organisation that is a trusted advisor on health and safety compliance. Industry benchmarks are set by CHAS as it continually pushes forward in making the workplace safe for all employees.
The aim is two-fold:
To simplify health and safety contractor assessments by standardising requirements.
And secondly, to allow companies to avoid multiple health and safety assessment.
There are over 900 public and private sector client organisations and 70,000 contractors registered on the CHAS database – and the numbers will keep growing.
Improving business
By completing a thorough assessment, with high benchmarks across the process, a company can show any number of organisations with whom it tenders for work that it meets a stringent set of health and safety criteria.
It is not a tick box exercise and the paperwork filed away. It is a process that requires constant commitment to improve health and safety across the CHAS accredited organisation.
It remains current too, with companies required to re-register and update its commitment annually.
It improves business in many ways because it retains focus on health, safety and wellbeing obligations. It also allows business to be more competitive as health and safety assessments are streamlined, saving time, money and resources of tendering for work.
Who can be CHAS registered?
Any business that needs to show prospective clients from the private and public sectors that it is committed to health and safety practices can be CHAS registered.
A simple process, gaining CHAS registration will be of significant benefit to your business and Synergos Consultancy are the company to help you navigate the process with ease.
How can we help you?
Click here to download our NEW FREE eBook, informing you of the benefits of CHAS to your business.
If you're in need of assistance with any aspect of this accreditation here at Synergos we'd be delighted to help, call 01484 817 444 or Email info@synergosconsultancy.co.uk and we'll be happy to talk it over with you.