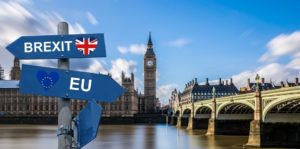 Early July 2018 saw the white paper on Brexit published. It set out Theresa May's vision for our future relationship with the EU. The resulting argument and counter-argument both at home and in the EU are leading businesses to become even more nervous about Brexit.
There are still no guarantees or even a vision of what post-Brexit business and our country will look like. And one area that is causing huge concern is trading across the borders.
What did this white paper set out as a vision for free trade for goods? Why do those companies with AEO status need to sit up and take notice?
"Free trade area for goods"
The white paper sets out a case for a creation of a "free trade area for goods" alongside what was termed as a "facilitated customs arrangement". Tied together, these two things were hoped to continue a cross-border trade that would be as "frictionless" as possible.
It suggests that where goods reach a UK border and the destination can be 'robustly demonstrated', then it will pay the UK tariff if that is its destination and the EU tariff if it is destined for an EU member state.
"Trusted trader"
The concept of 'trusted trader' comes from the World Customs Organisation (WCO) but in the EU, a 'trusted trader' is a business with Authorised Economic Operators (AEOs) status.
To qualify for AEO status, a business needs to demonstrate a robustness in both policies and physical arrangements when it comes to a strong supply chain. In other words, it can guarantee the safe and secure transport of goods and that they are properly accounted for. This needs to be backed by at least three years' experience.
If we see the above as a test, an estimated 131,000 UK businesses wouldn't pass it.
As a result, buying-in expertise may be needed by some companies to act as intermediaries.
However, the UK does have 630 businesses with AEO status, but this is a poor statistic in relation to Germany who has 6226 and over 1,500 in the Netherlands. Thus, UK businesses with AEO status will be in short supply.
AEO status
Gaining AEO status is not straightforward. The form may be short but the evidence required in detailed. Applying for and maintaining AEO status also take a considerable amount of time and cash. In theory, the whole application process takes up to 120 days,
but in practice, it seems that the process takes longer, with some cases extending to 18 months to two years. AEO status is not a quick fix, nor an easy route, but it is still considered to be the scheme that could bring advantages to post-Brexit trade.
Where does this leave AEO status?
The usefulness of the AEO scheme relies on it being an end-to-end process, and it only works if both ends agree.
The white paper would not or could not guarantee that AEO status granted in the UK would be recognised by the EU post-Brexit.
It emphasised the need for mutual agreement and recognition of AEO status and that without it, AEO status would have little value.
What's the answer? Should businesses invest in AEO status or not? The time span between now and Brexit at the end of March 2019 is short, and although a business can still apply to HMRC for AEO status and with a concerted effort, they could win the recognition, until there is more detail to the Brexit plan – and it is agreed on – we simply don't know.
How can we help you?
If you are in need of assistance with any aspect of AEO compliance, here at Synergos we'd be delighted to help. Whether you have questions about the path to compliance or are looking for advice and support to maintain compliance, call 01484 666160 or Email info@synergosconsultancy.co.uk and we'll be happy to talk it over with you.