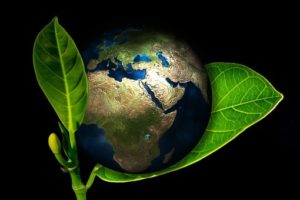 When it comes to saving the planet, research has found that if we all made one small change and stuck to it, the world would be in much better shape.  But it's not just how we act at home, but how big companies and brands act too. The vast majority of companies have made huge strides in reducing their negative impact on the environment and the earth's resources.  But what are these changes?
1. Recycling
For a long time, recycling for a business was something that cost far too much money and consumed too much effort.
However, the recycling processes are now improving and becoming much cheaper and easier for businesses to do.
From recycling ink cartridges to paper, cardboard and more, many more companies are taking bigger steps in what they recycle.
2. Consuming less
Recycling is only one part of it. Consuming less is the second half of this environmental equation.
From using only recyclable packaging in staff canteens to using a lot less on their products, brands are realising that excessive packaging is not only bad for the environment but bad for their reputation as well.
A modern consumer is a different person to the one that they sold to many years ago. No longer are we prepared to accept waste and wastefulness from a company.
You only have to see the tweets relating to excessive packaging from an online retailer to understand the feelings of the modern-day opinion on the matter…
3. Improved environmental systems management
Companies of all shapes and sizes, and across all sectors, are committing to making changes by improving their environmental management systems.
There are various accreditation processes around but the standard that is recognised across Europe and beyond is ISO 14001 environmental management systems.
However, this isn't just about looking at their own processes, policies and procedures when it comes to environmental practices – it is also about business to business processes as well.
In other words, a company would rather do businesses with another company or organisation that shows the same commitment to the environment as they do.
4. Improving buildings
From green roofs to rain harvesting, companies are investing in new, eco-friendly premises. Not only are they cheaper and easier to maintain, an eco-friendly building can also capture its own power from wind and the sun.
For those companies in older buildings, they too are taking strides to make their buildings more eco-friendly.
5. Funding and backing campaigns and projects
Companies and organisations all over the globe are making huge efforts in numerous ways to reduce environmental impact.
And they are also supporting – either with backing and/or funding – projects and schemes that help other businesses and private individuals to do the same.
Energy companies, for example, are offering grants to customers as well as advice on how to reduce energy consumption and wasted energy too.
Larger companies are helping smaller ones to invest in improved environmental infrastructure too.
No longer is environmental awareness about pretty logos and lip service. Invest and commit by opting for ISO 14001 accreditation.
How can we help you?
If you're in need of assistance with any aspect of ISO or GDPR compliance, here at Synergos we'd be delighted to help. Whether you have questions about the path to compliance or are looking for advice and support to maintain compliance, call 01484 817 444 or Email info@synergosconsultancy.co.uk and we'll be happy to talk it over with you.