Like many phrases and words, outsourcing is a buzzword that has been circulating for some time. As businesses become more quality and cost conscious, many are turning to outsourcing partners as a way of outsourcing business process and systems.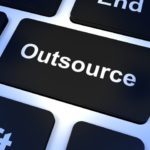 Outsourcing tasks vary from one business to another; a common example is Health and Safety. Rather than buy expensive software, send staff on regular training and so on, this task is assigned to a specialist firm. Staff time is also released from this time-consuming task too.
There are all kinds of tasks that can be outsourced and there are many benefits in doing this, the top seven of which we list here:
1. COST
This is not the only factor, but for many businesses large and small, this is the factor that drives the decision to outsource. Lowering costs is one thing, but understanding that for a financial outlay, quality can be improved too is an important factor to remember. Estimates of how much a business could save will vary dependent on the tasks being outsourced and to whom, but savings of 60% are not uncommon.
2. IMPROVED EFFICIENCY
Many outsourcing partners have years of experience in their chosen field, with practices and expertise that can make the most complex of tasks into much simpler ones. The rewards for your company are obvious – you can access expertise at an affordable rate, when you need it most.
3. CORE AREAS
Every business is different and, thus their core business is different. Imagine being able to spend time on the areas that make your business tick – opening up new markets and so on – whilst your outsourcing partner deals with background topics and areas that are important for your business continuity.
4. INFRASTRUCTURE
As a business grows, the scaffolding and infrastructure around it needs to evolve too. Initially, these changes may not be too burdensome financially, but the bigger the business become, the bigger the investment needed in these systems. By outsourcing various tasks, technology and infrastructure need not become a drain on your profits, allowing you to direct these to place that you need them.
5. SKILLS
There comes a time when some tasks are beyond the skill set of you and your team. One option is to train one or two staff members to become experts in various aspects of the business but this takes time and money. Outsourcing is a way of using skill sets that you do not have within your current set up.
6.GLOBAL
The business world, with the help of the online world, is now global for many businesses, from start-ups to massive corporations. Outsourcing tasks means that there is a distinct possibility your business can be engaging with customers every hour of every day, across all time zones.
7. BETTER SERVICES
Being responsive, rather than reactive is key for any business in today's fast-paced world. Outsourcing systems and processes can be ways of not only improving the service you offer, but also its responsiveness.
If you're interested in how outsourcing can help your business, then let us talk you through it. Choose Synergos Consultancy as your outsourcing partner and you'll have systems and processes improved, whilst you get on with pushing your business forward.
Call us on 01484 666160 or email info@synergosconsultancy.co.uk to get started!