Based in Cleckheaton in West Yorkshire, Sabre Ocean Solutions Ltd is a highly regarded logistics company that was founded in April 2010 and consists of a team of seven employees.Recently, Sabre teamed up with Synergos Consultancy, ISO and AEO process management specialists, as they wanted to acquire AEO certification (Authorised Economic Operator) status, which is an internationally recognised standard that verifies that your global supply chain is secure, and that your procedures and custom controls are compliant and efficient.
However, they did not have the time or resources to dedicate to this time consuming and difficult task. As a result, Sabre was awarded AEO certification in April 2016 and the team have been delighted with the speed and efficiency Synergos displayed in helping them to achieve this often complicated goal.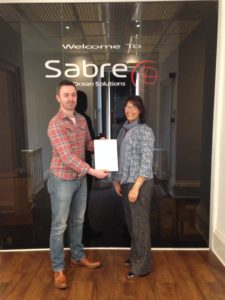 Approximately 12 months ago, a BIFA notification alerted Sabre to AEO. The article was quite an informal one, looking at the benefits of AEO and raising questions as to whether businesses were prepared for change. With UCC Regulations now legally enforceable, it seemed even more important to explore what benefits AEO can bring to forwarders and what problems it would help them avoid.
Sabre, realising that without AEO certification they would soon be facing questions about their customs compliance and whether suppliers could continue to have faith in their ability to move with the rapidly increasing need for reassurance, quickly ascertained that AEO would be great for their business, especially as they are a smaller forwarder competing with multi national firms. Realising it would reaffirm to their clients Sabre's status as a leading logistics company while opening doors for potential new clients, Sabre recognised that accreditation is an imperative part of verifying credibility and showing prospective customers that they are fully compliant with customs requirements. As a busy forwarder, however, they simply did not have the time, expertise or manpower to dedicate to achieving AEO on their own, completing the complicated paperwork and handling rightfully demanding HMRC audits.
When it comes to applying for AEO, there are numerous criteria that need to be fulfilled across areas of solvency, record keeping, compliance, practical standards, and professional qualifications, and Sabre quickly decided that the best thing to do would be to outsource the process of audit and data retrieval, along with the application itself, to a professional consultancy with experience in providing assistance with gaining complicated and demanding standards. After an initial meeting with Jenny from Synergos to gain knowledge of what was involved in the application process and a brief audit on where Sabre currently stood in terms of compliance, Sabre had confidence that Synergos would be able to provide just what they needed to gain AEO.
From taking care of the detailed application itself to taking Sabre through the customs audit that forms part of the process, we've enjoyed working with Sabre on their AEO application.
Lee, Sabre's Managing Director explained,
"Now that Sabre has been awarded AEO, we now have the platform to move our business to the next level. Sabre plan to promote our AEO status, allowing us to attract new opportunities from businesses that would perhaps not have used us previously. And, of course, we will maintain the processes that are required to ensure we run a compliant service.
He added:
"We have been delighted at Synergos' level of professionalism and efficiency in acquiring AEO status for our business.
I highly recommend any business to go for AEO status and to use Synergos to do so. From start to finish, they have been extremely helpful, explaining everything to us and keeping us informed every step of the way. They visited us to work with our teams and it was evident that Jenny from Synergos knew exactly what was required and what changes we needed to make. It proved to be a very cost effective approach for us, and as they offer a 100 per cent guarantee service, you have that added bit of protection. I have already recommended them to several other businesses, and I will continue to use their services."
Are you looking into AEO certification? Why not let Synergos take care of your application, allowing you to reap the benefits AEO could have for your business?