We told you a few months ago that we have a new corporate partnership with The Children's Air Ambulance (TCAA).
We have always supported charities and have now named the vital inter-hospital transfer service – which flies critically ill babies and children from one hospital to another for specialist care – as our Charity of the Year.
So far we have already raised £1,012 for the Children's Air Ambulance through the two events we have taken part in. We started off with selling raffle tickets in the run-up to Christmas and managed to sell £135 of raffle tickets.
Then our fabulous team members Annalie Ellis and Abigail Kilburn decided to walk around Scammonden Dam dressed up as Santa on the 12th December. Between them, they raised an amazing £877!
You can visit our Just Giving Page here if you would like to help us raise more money for this fantastic charity and we will be keeping you up to date with how our fundraising is going!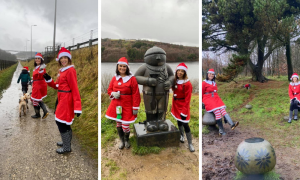 P.S. Not ones to be outdone, Jenny and Steve Byrom are taking part in the Lands End to John O Groats virtual event – aiming to run/walk 874 miles in 12 months. They are not doing this for charity, but for their own personal satisfaction! Join us in wishing them luck!