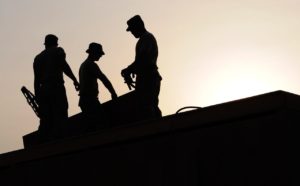 When the sun is shining, spirits are lifted. Whilst this is great for our emotional well-being, it can also mean that we become more relaxed. Maybe the problem with the loose fixing on a safety barrier is not such a big deal – it can be fixed tomorrow…
Constructions sites are busy at all times of the year, but in summer there can be health and safety issues that need to be dealt with correctly, and in a timely manner too.
Increase in trades
When the weather is good, it means that a lot of work can be done and quickly too. There are many trades that prefer to work when the sun is shining – roofers prefer warmer weather as opposed to wet and windy conditions, plasterers find their plaster dries quicker, joiners prefer warmer weather and so on.
This means that on-site contractors can significantly increase activity on site and that means ensuring that everyone is working safely, and has space to work too.
Keeping track of more people on site can prove problematic too. The solution is to ensure that everyone knows of, understands and adheres to the signing in and out process for the site.
Casual labour
When the sun shines, the environment is more favourable to speed up and get the job done – or certainly to get your build ahead of schedule.
This may mean taking on casual labourers, which is no bad thing. But it can place pressure on health and safety processes, leading to some corners being cut and risks being taken. When hazards are unidentified – and a busy site will have additional hazards – it can lead to problems.
Casual labour should not mean untrained labours, especially when it comes to health and safety procedures. Always ensure that everyone who works on site, no matter how long for, are trained in all  procedures, and especially in being safe on a construction site.
Construction sites by their very nature, change on a daily basis. This means risks and hazards change on a daily basis, something that everyone on site must be made aware of.
CHAS accreditation
With such a fluid health and safety risks and hazards on construction sites, it pays to opt for CHAS accreditation or certification.
This scheme was created to answer the need of reducing fatalities and injuries within the construction industry, an industry that traditionally exhibited high levels of both.
It specifies who is responsible for what, how contractors on site for short or prolonged periods are to be trained in health and safety, and helps your business with pre-qualifications questionnaires and other paperwork needed when tendering for work.
Having the CHAS logo speaks volumes. It shows you have an in-depth understanding of health and safety on site, as well as operating a safe site, and caring for the well-being of all employees and contractors.
How can we help you?
Click here to download our NEW FREE eBook, informing you of the benefits of CHAS to your business.
If you're in need of assistance with any aspect of this accreditation here at Synergos we'd be delighted to help, call 01484 817 444 or Email info@synergosconsultancy.co.uk and we'll be happy to talk it over with you.