When my wife and I got married, we were looking for something we could do together as a hobby and as a way to spend time together. I have always been very sporty and active and my wife is very artistic. But we had a shared passion for the bush (Safari) so it was only natural that we made an attempt at photographing our time in the bush and the magnificent wildlife we encountered. 
That led us to investing in some decent photographic equipment which we needed to learn how to use!  So we booked ourselves into a photographic course for beginners and shortly after we completed an advanced photography course.  We took many photographs whilst learning this great skill together in the bush, which captured some fantastic scenes and memories.
We later moved from South Africa to Scotland, where my wife enrolled me in the Dumfries Camera Club. Up until this time, photography had purely been a hobby that I had undertaken whilst on safari. But after joining the Dumfries Camera Club, one of leading camera clubs in the UK, my passion and interest in photography grew immensely. 
Being able to capture a moment in time that will last forever is a fantastic feeling. Learning about light, how it works and how to manipulate it to get the desired results, is an art form of the gods, and I am just starting to learn its true charm. Aaron Siskind once said: "Photography is a way of feeling, of touching, of loving. What you have caught on film is captured forever… It remembers little things, long after you have forgotten everything."
Photography is an amazing hobby but it can also be time-consuming and it can be difficult to spend as much time doing it as I would like these days, especially with a family in tow!  The time I spend on this passion varies immensely, from waking up at 2 am on a summer morning to be at a beautiful location to capture the sunrise, right through to popping out and being freezing on a cold winter evening, capturing the sunset. 
Days in the studio doing portrait photography are not as physically tiring but are just as fun. Then there is the time spent in nature sitting waiting for the wildlife to come out and go about their daily business while you observe, remaining as silent as possible and trying your best not to disturb them. Chasing grouse around the hills of the Highlands, sitting in a hide waiting for the squirrels to come out or getting into an Osprey hide before its light so the birds don't see you and sitting there waiting for them to start fishing all become instantly worth it when nature plays out its impeccable display of beauty and harmony in front of your eyes.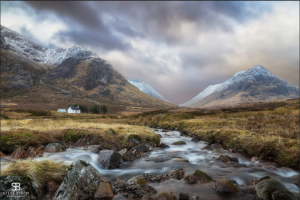 My all-time favourite image must be one I took last year in Glencoe at the famous Blackrock Cottage in with Buachaille Etive Mor in the background. My parents had come to visit from South Africa and we had spent a few days up in the Fort William area for Hogmanay. When driving back home we drove through the splendid Glencoe when it started snowing, leaving the mountains with a fine dusting of snow. Combined with the stunning light, I decided to stop and go for a walk with the camera. After spending about 45 minutes walking around and taking various photos I was happy with the results but not ecstatic. By this time my hands and feet were frozen and I decided that as enough, heading back to the car I spotted a little stream, a few minutes later I was standing in the middle of the stream, feet wet and frozen but it was all worth the effort. The image I captured there went on to be my first accepted into an internal photographic salon.
If you are thinking of getting into photography as a hobby, I would definitely recommend finding a local camera club. They are full of great people of all skills levels who truly love photography and sharing their experiences and knowledge. Another important thing for beginners to know is that you don't need the best most expensive equipment! Many a great photo has been taken with an entry-level camera. The skill of knowing how to use the camera is far more important than the camera. 
Find out more about Steve here or connect with Steve on LinkedIn.