It's a great feeling, isn't it, when you complete a task and know that you and your staff team are 'safe'? You have spent time, energy and effort – and possibly money too – on making sure that your workplace is a safe place to work. You can also rest in the knowledge that should there be an accident or other kind of catastrophe; your people are trained in how to deal with it.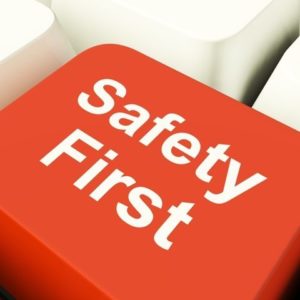 Knowing the basics of health and safety is one thing, but ensuring that any plan stays relevant and up-to-date is often part of the health and safety equation that business forget. Keeping any health and safety plan relevant is a task that should be assigned to someone with a specific remit to maintain it. In all honesty, as soon as the document is signed off, it becomes in need of updating. But why?
Change
The biggest impact on any written document is change. And it happens without us being aware and yet we know that staff members change, or new machinery has been purchased, which is why regular inspections and updates is simply essential.
Here's what an internal health and safety inspection could look at:
It is an opportunity for staff members to raise concerns
In order for health and safety documents to be relevant, you need to have a deep understanding of how jobs and tasks work – and how they may have or will change, along with any health and safety implications
Identify existing hazards, as well as any potential ones too
You will also need to determine what the underlying causes of these hazards are
You will need to monitor how these hazards are controlled and their effectiveness – for example, personal protective equipment (PPE), engineering controls, policies and procedures in place – are these still relevant and workable?
Most importantly, any inspection of health and safety at work should recommend corrective action.
Living document
For those who have undergone OHSAS18001:2007, the need to constantly be assessing health and safety is part and parcel of the process.
But this does lead to an inevitable question – how often should health and safety inspections be performed?
The frequency depends on a number of factors:
The frequency may be stipulated for formal inspections in legislation for your industry
Past accidents and incidents will also inform frequency
The number and size of work locations and operations will also have a bearing
The type of equipment and work involved will be a large factor; those areas of work that are considered hazardous will require frequent inspections
Number of shifts and activity in each
When new processes or machinery is introduced to the workplace
Don't stand still!
Ensuring the safety of your workforce is not a voluntary action – it is compulsory thus, it makes sense to plan and prepare your own internal workplace health and safety inspections in line with any formal requirements but also from your own point of view. Keeping people safe should be at the top of your list of priorities. If you're looking for assistance with workplace health and safety and would like to know more about how Synergos can help, simply call us on 01484 817 444 or email info@synergosconsultancy.co.uk and we'll be delighted to talk you through how we can be of service.
Published 20/06/2016