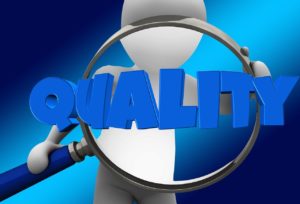 From providing professional cleaning services to corporate clients, to servicing equipment and machinery, there are many different essential services that businesses offer other businesses.
The B2B market is a competitive sector, where your star rises or falls depending on your last job. From servicing longer-term contracts to delivering one-off services, you need to be confident that no matter who the client is or what the task, where or when the job takes place, that it is delivered to the same high standard as last time.
But neither do you want to stand still. As a business, you need to be constantly driving forward – and that means taking steps to improve service levels. This striving to better your business is the cornerstone of growth.
But what happens when standards do slip? What happens when a customer complains about a quality management issue? How do you log, monitor and track these complaints?
ISO 9001 Quality Management System (QMS)
In order to fully understand how and where you can improve your services, you need to have an effective quality management system in place. Essentially, what this is, how it works, who feeds into it and what happens with the information are factors that can be determined by your business: you create the system and operate it.
Or, there is another alternative, one that adds even more to your current quality management system: ISO 9001:2015.
This family of standards specifies the requirements for a quality management system. By showing you meet this standard, you demonstrate to your customers and the wider business community that your services continually meet customer expectations, as well as meeting regulatory requirements.
Constantly improve service standards
As a service-based business, you understand the need for continual monitoring of how well your services are provided and ISO 9001:2015 is the perfect vehicle for showing your stakeholders, customers and competitors you are a business serious about maintaining and improving service delivery.
This standard can be used by any business, large or small and no matter which industry or service-sector you dominate. Currently, there are over 1 million companies and organisations across 170 countries that are ISO 9001 certified.
There are many underlying quality management principles to this standard. As part of the process, you will need to show that your company or organisation has a strong customer focus, as well as a strong management focus on quality management, its implications and commitment to continual improvements.
By meeting this standard, there is a clear expectation of consistency in the standard of the services that you deliver, in turn bringing your business many benefits.
Is ISO 9001 for you?
There are industry-specific ISO 9001 standards too. If you operate within the petroleum, petrochemical or natural gas industries, medical devices, software engineering, electoral organisations within government or are local government, contact our team about specific ISO 9001 standards. Many other service providers attain ISO 9001: 2015 certification or accreditation – are you next?
How can we help you?
If you're in need of assistance with any aspect of ISO or GDPR compliance, here at Synergos we'd be delighted to help. Whether you have questions about the path to compliance or are looking for advice and support to maintain compliance, call 01484 817 444 or Email info@synergosconsultancy.co.uk and we'll be happy to talk it over with you.