When you have a great product or service and you know you have a good customer base, you also know that you have to work hard to keep those customers and the way to start is with great customer service. We've put together a few hints on how to provide a good quality service.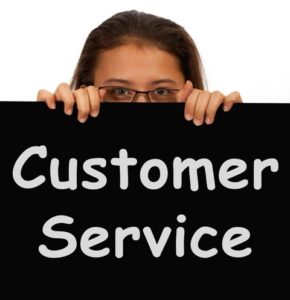 Keep in Touch
Customer service surveys show that the single most infuriating thing for customers is a company promising to contact them and then failing to do so. There is nothing more annoying than sitting for hours by the phone, or checking the email inbox, when a promised communication doesn't materialise.
So if you say you're going to contact them – do it. Even if you can't tell the customer what they're expecting to hear, the fact that you are keeping them in the loop will help them to feel that you are still on the case for them.
Product Knowledge
Whatever your organisation deals in, whether goods or services, the customer is relying on you to be the expert. Keeping up to date with the latest developments reassures customers that they are in safe hands and helps to cement and enhance your company's professional reputation.
Listen and Respond
When your customer talks to you listen to what they are saying. It may seem obvious but many a mistake has resulted from miscommunication.
The speed – or otherwise – of your response can mean the difference between good and bad customer service. If you say you are going to do something then do it as soon as you can and if you can't fulfil a promise let the customer know as soon as possible.
Try to avoid using company jargon when you speak to customers. Just because you know what you mean doesn't necessarily mean that the customer does.
Own your Mistakes
If you do something wrong, or forget to do something, fix it immediately. Not owning up to errors and failing to put them right is the quickest way to lose customers and establish a bad business reputation. Always aim for quality in goods and services and in relationships with your customers.
Standardise Working Practises
An organisation is frequently only as good as its system of documentation. Make sure all staff follow the same procedures when it comes to record-keeping, invoicing and document storage. A lost or mislaid invoice or payment receipt, or customer's letter, can lead to bad customer relations or worse.
Keep all records and documentation up to date at all times.
Data storage, whether digital or on paper, should be kept securely.
Adhere to data protection laws.
Consider delegating only a small number of personnel who are able to access records.
Above all, make sure you have in place proper documented systems to ensure standardised best working practises across the whole organisation. ISO 9001:2015 is a certification that proves to your customers that you care about the service they're receiving and offers several other benefits to your business, serving not only as a 'kite mark' to prove your professionalism, but helping you streamline your systems and processes, cut costs and see opportunities to further your business. If you'd like to talk about how you can benefit from ISO certification, then we can help. Simply call Synergos on 01484 817 444 or email info@synergosconsultancy.co.uk and we'll be happy to talk it over.
Providing a good quality service to your customers is not rocket science. It's about common-sense practise, proper systems and professionalism. Put yourself in your customer's place and you will soon see what they see. If you don't like it – change it.