Unless you've been far too busy running your business to even glance up at the television or pick up a paper, you won't have missed the fact that the Government are in the midst of a 5-year campaign to get British businesses exporting. An effort to provide opportunities for British businesses to win clients overseas is well under way, with the Government's dedicated website providing hundreds of business expansion opportunities across the globe for savvy business owners to tap into. With this in mind, here we look at some tips and tricks for expanding your business overseas, and how you can avoid some of the common pitfalls.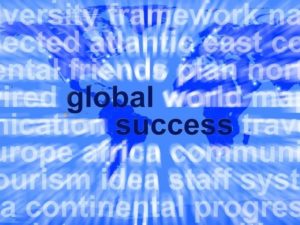 Tip 1: Get in Quick
If you can, start exploring the opportunities you have to do business globally sooner rather than later. As more and more business owners look to take the first step into doing business overseas because of the government's encouragement, it's likely that over time, competition in your chosen market will soar, but if you can get in there first, you can build contacts and gain loyalty, standing you in a better position should the market become more competitive.
Tip 2: Do your research
Knowing your market is essential, and whilst you may do well in your home country, it's not necessarily true that success will follow you as you expand into different markets. Know the customs and cultural differences, as well as the local market, and you'll be far better placed to market your business in any country.
Tip 3: Know your legal requirements
Rules and regulations vary worldwide and you can't afford to get on the wrong side of these should you wish to succeed with your expansion. Sales contracts can be tricky, so do seek advice – it may cost you to hire a legal advisor initially, but they are almost always a good use of your budget to avoid costly mistakes.
Tip 4: Market Globally with a recognised "kite mark"
When it comes to attracting clients worldwide, few certifications are as well respected as the ISO family of standards. In particular ISO 9001:2015 is a sign your business is a quality outfit and many businesses here in the UK and overseas would prefer to do business with someone who has been proven to offer quality in all that they do. Gaining ISO 9001:2015 certification can be a fantastic marketing tool when you're looking to break into new markets where people will not likely have heard of your brand, and it may make a real difference when pitching to prospective overseas clientele.
If all this sounds a little complicated, and you're not sure how best to prepare your business for exporting overseas, then why not contact Synergos Consultancy. Not only do we offer a fresh pair of eyes on your business processes and systems to ensure that you're working efficiently and effectively, but we can also walk you through the process of applying for ISO 9001:2015, improving the way you do business, both here in the UK and on your first steps into creating a global business. Simply call 01484 817 444 or e-mail info@synergosconsultancy.co.uk to find out more.