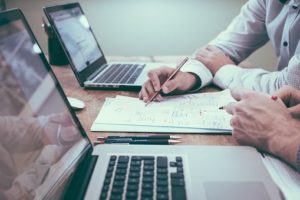 A health and safety plan is required for all construction projects, but for a long time, the attitude towards anything of this kind was 'a paperwork tick-box exercise'.
In recent times however, construction employers and employees have come to realise that health and safety is fluid and changeable and whilst a plan is essential, much of what happens or needs to happen comes with improved understanding and attitude toward it.
Three broad categories
Within a construction health and safety plan, there are three broad categories that need populating with information.
In effect, the plan you write must set out and record:
#1 Health and safety, and welfare management arrangements
From ensuring there are enough WC's onsite to arrangements for drinking water for all employees on site, this a large category of information.
You will need to build an overall picture of how employees and contractors, and anyone else expected to be of the construction site will be kept safe.
#2 Site rules
Walk past any construction project, large and small, and there will be a list of site rules at the entrance and other prominent points.
Wearing of PPE, for example, is a site rule and anyone visiting the site must report to a single point of access.
There will be other rules too and although they may be similar across a spectrum of construction projects you are part of, they may not always be the same.
#3 Identify high risks and the safety measures
We know that hazards and risks can change quickly, especially on a construction site. Whilst constant monitoring and vigilance is the answer, there are known health and safety issues on construction sites.
In a construction health and safety plan, high-risk situations and hazards to workers would be identified and the measures needed to negate or minimise them recognised and put in place.
Who is covered by the health and safety plan?
Everyone who works on the site, at related satellite construction sites and any visitors too.
Who writes the plan?
In cases where there is one contractor, the process of writing the plan is simpler. When the construction project involves many contractors as they often do, the principal contractor has the responsibility for either writing it or making arrangements for it to be written.
What are the key points to a construction health and safety plan?
Even for small construction projects, the health and safety plan can be a weighty document with a lot of information contained within it.
It is important to organise the information in such a way that no part of the construction project is 'forgotten' or not given due attention.
In the plan;
Details should be relevant to the project
It should clearly set out the health, safety and welfare arrangements, along with site rules and special measures so that their meaning is not in doubt
The level of detail needs to be in keeping with the size and complexity of the project, and the risks involved
Details should not hamper the understanding of what is needed in managing health and safety, including risk assessments and method statements.
What's included in your construction health and safety plan? Does it live up to CHAS standards?
How can we help you?
Click here to download our NEW FREE eBook, informing you of the benefits of CHAS to your business.
If you're in need of assistance with any aspect of this accreditation here at Synergos we'd be delighted to help, call 01484 817 444 or Email info@synergosconsultancy.co.uk and we'll be happy to talk it over with you.