ISO 45001 Occupational Health & Safety Management System (OHSMS)
ISO 45001 is the world's first occupational health and safety international standard and will help your organisation provide a safe and healthy workplace for your workers and other people, recognising the value created by an actively engaged and empowered workforce
How does ISO 45001 certification benefit you?
Help to prevent deaths, work-related injury and ill-health
Continually improve OH&S performance
Allows leaders of an organisation to show their commitment to safe and healthy workplaces.
How to achieve and maintain your ISO 45001 status
Synergos Consultancy can help you through the preparation required to complete the Stage 1 audit (pre-assessment) and the final stage 2 audit where certification will be granted by a UKAS accredited certification body.
Using our knowledge of ISO 45001, we take a step by step approach, talking you through the entire process of gaining certification, as well as making sure we have a sound understanding of your business. This allows us to identify potential health and safety risks, develop policies and procedures to counteract them and ensure that ISO 45001 best practice is maintained throughout your business. After achieving certification, we can assist with a maintenance plan to ensure continued compliance.
Easy and Affordable Certification – 100% Guaranteed
Our step by step approach to certification reduces the time and paperwork required to complete the process. Preparing for certification is easy and affordable with Synergos which is why we 100% guarantee our service.
100% Money Back Guarantee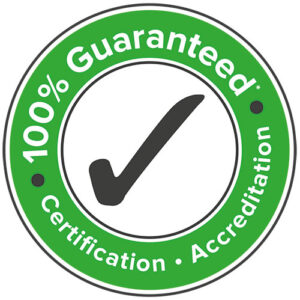 You can be confident that we will ensure your certification is a successful one, or we will refund 100% of all monies paid to Synergos Consultancy, subject to our terms and conditions.  You have nothing to lose and everything to gain!

Your next step
Your business is everything. Gaining ISO 45001:2018 certification will speak volumes to your trade partners, as well as helping you stand out from your competitors.
Here to help you!
Here at Synergos Consultancy we'd be delighted to help.
Whether you have questions or are looking for advice and support to maintain certifications/accreditations.
Contact us today to see how we can help you:
info@synergosconsultancy.co.uk