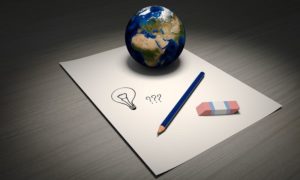 Resolutions are a chance to commit to doing something better, whether that is a personal or business commitment. But with the majority of resolutions doomed to failure in the first week of the New Year, how can you commit and promise to make a change that doesn't fall flat by the end of January?
WHY are you resolving to make a change?
As with personal resolutions, you need to be clear about why things need to be done differently within your business in 2018. Some changes may be mandatory, and others may be optional. The secret is not to take too many  big steps all at once.
And that means you need to plan. Rather than changing something all at once – and many things at once – consider rolling out any new policies, processes and ways of doing things. This means being prepared with a strategy for change in the coming year. What changes could make it on your list and be part of your business strategy?
1. GDPR (Mandatory)
There is no getting away from it. From May 2018, there is a new set of regulations and rules that govern data protection, security and safety. Get it wrong or fail to comply and you will face a hefty fine.
With the hectic festive season out of the way, make January the month you resolve to get to grips with the new regulations and strategies what needs to change and how you are going to do it.
IMPORTANT – GDPR affects everyone and as an EU regulation, it does apply to the UK, no matter how BREXIT looks in the end!
2. Get to grips with quality management
Fielding niggling complaints? Is there a chink in the supply chain that isn't right? Waiting for products only to find they are not the same quality?
If this is the case, then make 2018 the year you resolve to get a grip on quality management issues in your business. Start with an audit to identify which parts of all your processes are weak – you are looking at processes and products, not people! – and start to get a clearer picture of the deeper problems being quality management.
Consider the accreditation process to ISO9001:2015 as a means of really pulling it all together.
3. Get greener and tell people!
2018 is set to be a big year when it comes to carbon emissions and how countries are going to commit to reducing levels and fast. Businesses across all industries will play a big part in this.
The annual COP global warming summit will be held in Poland this coming year and is expected to be the global conference in which the targets, the rules and so on will be carved out relating to the Paris Agreement.
Be ready by looking at how green your business currently in and what more you could do to really make a serious commitment to cutting carbon emissions and waste. And don't forget to tell people about it because commitment to changing global warming is what needs to happen from individuals to businesses.
What resolutions will you make for your business this year? Will you stick to them, or might you need a little help…?
How can we help you?
Click here to download our new eBook, which will give you an overview of the ISO standards and the FAQs that will help you understand ISO better.
If you're in need of assistance with any aspect of certification, here at Synergos we'd be delighted to help. Whether you have questions about the path to certification or are looking for advice and support to maintain an existing standard call 01484 817 444 or Email info@synergosconsultancy.co.uk and we'll be happy to talk it over with you.