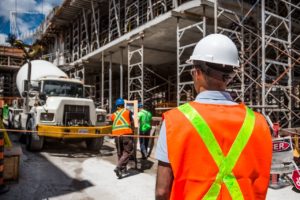 As a business, you want your staff to be safe at work and that means understanding and acting on health and safety in the workplace. But what will you do differently in 2018 to achieve these goals?
Hire smarter
When your business is bowling along at full speed, it is tempting to make a quick hire. But you need to think twice about this. How does it benefit your business? Hiring someone who is 'not quite the right fit' can lead to all kinds of problems, health and safety is one of them.
Ensure that you don't opt for 'quick hires' in 2018 and that you get the right people for your business.
Train your staff
Health and safety training is often seen as a tick box exercise, but this is not giving your business the best foundation when it comes to safety. Health and safety is fluid, rapidly changing, more so in some industries such as construction.
Rather than seeing it as a training exercise that is done annually or occasionally, make health and safety a means of operating within your business.
Make it part of company culture and operation
Again, for too long, businesses have seen health and safety as something that has to be done but not integrated as part of the way people work. In order to improve health and safety in the coming year, you and your staff throughout your organisation need to make it part of daily life within the business.
As well as sharing your vision of a safer workplace, make sure that employees understand it underpins everything that they do, every time that they do it.
Provide the right tools and equipment
From broken or missing guards on machinery to working with older equipment, there are many facets to machinery and equipment being unsafe. Health and safety means taking all reasonable precautions to ensuring that tools and equipment used are safe.
Perform regular safety audits on all tools and equipment, making a prioritized list of what needs to be replaced and/or repaired.
5 Demonstrate worker value
Show your employees that value their safety by highlighting best practice when it comes to health and safety. And that means praising people when they make an effort or come up with a great idea for making the workplace safer.
Consider creating a scheme that specifically highlights best practice of employees for keeping themselves, colleagues and customers safe.
Look for ways to improve safety
From CHAS accreditation to internal audits, make 2018 the year your business consistently looks to improve health and safety.
Don't forget, when it comes to keeping your staff safe, there are many right answers and many ways of doing something right. All too often, businesses are taught that there is just way of doing something.
Health and safety is not absolute. It changes and as a business, you need to keep up with these changes, if not outpace them. CHAS accreditation, however, is a firm foundation for building better practices when it comes to keeping your people safe. Why not consider it for 2018?
How can we help you?
Click here to download our NEW FREE eBook, informing you of the benefits of CHAS to your business.
If you're in need of assistance with any aspect of this accreditation here at Synergos we'd be delighted to help, call 01484 817 444 or Email info@synergosconsultancy.co.uk and we'll be happy to talk it over with you.