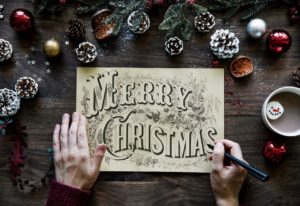 As Christmas day dawns, we hope it is bright and cheerful, no matter how you choose to celebrate the festive season or where you choose to celebrate it.
Taking stock
For many of us, the Christmas holiday is a chance to recharge our batteries, to look back over the last year in business and to look forward to the challenges that the coming year will hold.
There promises to be many opportunities, as there will be hurdles and so with this in mind, we thought we would take a look at what Synergos will be able to offer our clients in the way of support in the coming year.
The challenge of GDPR
It has been a subject on which there has been much tense debate and discussion in the past and now it is here: the right to be forgotten, along with other privacy and data issues is being answered by the General Data Protection Regulation (GDPR) coming into force in late May 2018.
It is not optional but a 'must comply with' regulation that has a significant impact for all businesses, but especially those who will continue to deal with European customers and countries after Brexit.
With fines for non-compliance significant, we will be offering a service that will be essential and that is an audit to assess how compliant your current processes and data protection systems are when measuring against GDPR.
With our help, your business will be compliant before May 2018, but you need to contact us first thing in the New Year.
Our service to you
We will continue to make strides in improving our service to our clients in the coming year too, so whether you are planning on gaining your first ISO accreditation, renew your CHAS registration or upgrade your current ISO to a newly revised edition, we are here to help.
ISO 17025:2017 revised edition for laboratories and testing facilities has just been released. With three years to update your ISO accreditation from the 2005 'edition', our team will be on hand to deliver a responsive service to our laboratory-based clients.
With CHAS accreditation renewed annually, staying up to date is essential for our construction clients looking to tender for larger contracts this coming year. Again, our responsive service means that you get the help when you need it most, leaving you free to concentrate on running your business.
If you have the 'older' version of ISO 9001 (2008 edition), you have until September 2018 to transition to the latest chapter, ISO 9001:2015. If you think this applies to you, please contact our team!
ISO updates are important too as they are reviewed and/or updated every 5 years and we expect some changes to come through in the coming year. We'll keep you updated!
But all that can wait until the New Year. However, if you do intend on growing your business in the coming year, there is no doubt that standards and accreditations widely accepted by stakeholders and trade partners alike are certainly worth considering.
From all at Synergos Consultancy, thank you for your business and enjoy your Christmas break!
How can we help you?
If you're in need of assistance with any aspect of ISO or GDPR compliance, here at Synergos we'd be delighted to help. Whether you have questions about the path to compliance or are looking for advice and support to maintain compliance, call 01484 817 444 or Email info@synergosconsultancy.co.uk and we'll be happy to talk it over with you.