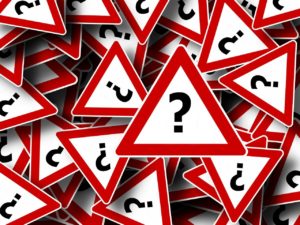 There are many indicators in business that show whether a business is doing well or whether there is a decline in its fortunes.
Some are obvious, but are there are other, subtler signs that indicate it is time to revisit your working practices…
1 An increase in customer complaints
Rather than dreading customer complaints, some companies are genuinely forward thinking and see customer complaints or concerns as a springboard to their learning. However, rather than waiting for a complaint to arise, they are proactive in seeking their opinions.
If you notice a steady increase in the number of complaints from customers, you need to investigate further. What is it they are complaining about – is it a certain product or a certain aspect of your service?
It is important you monitor your complaint processes too, ensuring that people get a timely response and problems are resolved to their satisfaction.
2 Fall in revenue
It is an obvious one but sometimes, we are so blinkered by the day to day running of the business that we miss the fall in revenue for months on end.
In some cases, you can explain it and are aware of it e.g. retailers usually experience a quiet January after the Christmas season, with sales picking up in mid-February. You will also have other hotspots in the year where you are rushed off your feet, followed by a predictable quiet period.
However, if there is a steady decline in revenue it may suggest a far bigger and more pressing problem. Are your goods overpriced? Has the quality dropped? Is there a new competitor snaffling part of your market? Is your marketing no longer effective?
3 Staff turnover
Some businesses seem to hang on to their staff for years. And others seem to shed staff with an alarming turnover rate.
A turnover rate is to be expected, more so in the 21st century where Millennials are no longer willing to stay in 'one job for life'. They will search out new experiences, as well as be targets for head hunters in the industry.
That's all well and good but if you find that staff are leaving, some within months of starting a new post, it is indicative of a problem. And one that you must get to the bottom of.
The answer may lay in the recruitment process itself – are you interviewing the right people? Is the induction process of a high standard? Always perform exit interviews so that you can get an idea of any trends that are affecting employee retention.
4 You heard it on the grapevine…
Frankly, if it reaches your ears your business reputation is less than glowing, you need to take steps to work out why and where this has come from. It could be high turnover of staff, levels of complaints online from customers, social media gaffes and a general sense that your business is struggling.
ISO accreditations are a fantastic way of re-examining working processes, working out what is working as well as streamlining them.
How can we help you?
Click here to download our new eBook, which will give you an overview of the ISO standards and the FAQs that will help you understand ISO better.
If you're in need of assistance with any aspect of certification, here at Synergos we'd be delighted to help. Whether you have questions about the path to certification or are looking for advice and support to maintain an existing standard call 01484 817 444 or Email info@synergosconsultancy.co.uk and we'll be happy to talk it over with you.