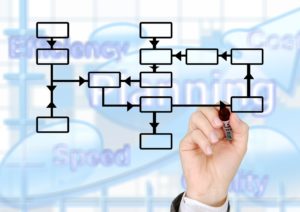 Your business is the product of many hours of energy, enthusiasm and unwavering passion. It has flourished from a seed of an idea and you are now running a thriving, busy business. Growth is essential but it must be done in balance. But the sense of balance can be lost, especially when every working day is jam-packed.
If you feel you don't spend any time working on your business, the time has come to take back control and drive your business, rather than it driving you. Processes, policies and systems need to be put back into place so that you have an overview of everything that is happening in your business.
Here are three ways of taking back control;
1 Re-Setting the context of your business
With unfettered growth, you may be surprised to find that your business is not dominating the part of the market that you thought it would – or that you were aiming for. This may be all well and good as your business has pushed and pulled customers at a time when they needed a product or service like yours. Or, you may be occupying a sector that is so far removed from your business that you realise how vulnerable you are. If so, a full revision of your business plan is needed, to really work out where you currently stand and where you want to take your business next.
2 Meeting those basics that are not being met
Noticed a rise in customer complaints? Trouble getting your products out from the warehouse and delivered? If this is the case, your business needs to be restructured, as there are parts of it that have bypassed the quality assurance systems you had in place – but are clearly now too old or too out of date to pick up problems. Restructuring incorporates examining policies and processes in place, identifying what needs to change within these systems to take control back of your business.
As part of the ISO 9001:2015 Quality Management System certification process, quality management systems of all kinds, from checking goods to customer service policies and processed are examined and measured against a set of standards.
ISO standards are a useful tool for all businesses, whether they are restructuring or not, to audit their processes. And, when you meet all the criteria, you come out with an internationally recognised standard that places your business firmly back on the map.
3 Re-focus
When we are busy meeting orders and deadlines, we can become so hoodwinked into thinking that this is the most important part of our business, that we lose our focus. Focus is important because it illuminates the road we want the business to travel. Just 'selling stuff' and hoping for the best means your business is simply continually circling a roundabout, and not moving forward. ISO 9001:2015 and the process involved can bring back this focus, pushing your business onwards to bigger and better things, but also streamlining it so it once again becomes a responsive player in a crowded market place.
How can we help you?
Click here to download our new eBook, which will give you an overview on the ISO standard and the FAQs that will help you understand ISO better.
If you're in need of assistance with any aspect of certification here at Synergos we'd be delighted to help. Whether you have questions about the path to certification or are looking for advice and support to maintain an existing standard call 01484 817 444 or Email info@synergosconsultancy.co.uk and we'll be happy to talk it over with you.