As mentioned in previous blogs, when it comes to the updates for ISO 9001:2015 and ISO 14001:2015, there are various new sections and additions that businesses wishing to gain certification must adhere to, and here we take a look the section on risks and opportunities.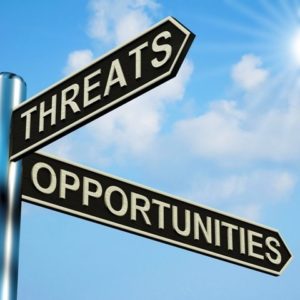 Why identifying risk doesn't mean you're doing something wrong
Many business owners don't realise that identifying risks is one of the most important ways to improve your business. After all, having any risks must mean you're doing something wrong – right? This is not necessarily the case. As a business grows, new processes and systems evolve sometimes naturally, and without proper evaluation, and it is only by going over all of your systems and processes regularly that you're able to see where things could be improved. It is this mindset of continuous improvement that forms the ethos of ISO certification, as there should always be room for improvement, as risks can become apparent not only due to internal factors. For example, if we're looking at risks for information security, new threats are happening almost daily, and whilst your systems may be protected today, this doesn't mean they will be protected tomorrow.
Use other sets of eyes
If you're heavily involved in the day to day running of your business, then you may be too close to see any risks. Having another set of eyes, therefore, on your businesses internal workings can be a great way to identify risks, and therefore opportunities, you may have missed. Whether that's an outside party, or different members of your staff, this is sure to generate more talking points about what you could be doing better.
Carefully weigh up the opportunities presented by your risks
Whilst it may be tempting to have a 'gung-ho' approach to reducing risks within your business, putting in place a structured plan to control risk is more important. For example, if there's a recent problem with shipping deadlines from one of your suppliers, rather than immediately changing your supplier, can you work with them to put a solution in place (perhaps ordering earlier and giving a longer lead time) to ensure a long term relationship doesn't fail – they'll likely be glad you've brought it to their attention, and this will likely strengthen your relationship going forward.
Never stop checking
Of course once the risks and opportunities have been dealt with, this doesn't mean that they won't become problems again later down the line. Checking the same processes regularly will ensure that you're always on top of the risks within your business and the opportunities they present to you to make your business run better.
If you'd like assistance with gaining the new standards of ISO 14001:2015 or ISO 9001:2015, then why not contact Synergos on 01484 817 444 or email info@synergosconsultancy.co.uk. We could be just the fresh pair of eyes that you need to foster an ethos of continuous improvement and identify the risks and opportunities you didn't even know you had.