One of the most important things to consider when running a business is ensuring you're as competitive as you can be in your chosen market, but many businesses wrongly assume that accreditations such as ISO 9001 are only for large businesses and corporate entities with large budgets and adequate time available to tweak and improve their products and services on a regular basis. Sadly, this misconception has led to many businesses missing out on the benefit. ISO standards were created to apply to any type or size of business, and the benefits even for the smallest businesses can far outweigh any time or effort required to gain accreditation. Here, we take a look at what a small business can get out of having a quality accreditation such as ISO 9001, and how you can get there with minimal disruption to your business.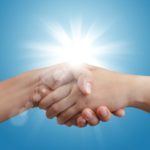 What is ISO 9001?
In layman's terms, ISO 9001 is a quality management system that lays out a framework for continuous improvement that businesses must fulfil to get accreditation. Audits are conducted to keep an eye on compliance, and businesses are required to re-certify every three years, with a more in depth audit from an external certification body.
The benefits of ISO for small businesses
Get ahead of the competition
These days, small businesses make up a large part of many countries' economy, and there are obviously many different businesses competing in every market. Even if you were lucky enough to be running a business that sold something unique, there's no guarantee that a competitor wouldn't show up with a similar product or service that cost less than yours later down the time – so how would you distinguish yourself as the better option without slashing your costs? With ISO 9001, an accreditation known worldwide, you can place yourself ahead of the competition, as you'll have proven you have quality that is worth paying for.
Make life easier for new customers
If you're going for a specific contract with a new customer and have been asked to put forward a proposal at the same time as competitors, your potential customer will likely have a lot less work to do in terms of auditing your business to prove you'd be a quality supplier if you have ISO 9001.
Do business better
Whatever size business you run, a process of continual improvement will allow you to do business better, allowing you to retain more of your current customers with better customer service, and entice new ones to purchase from you. Not only will this help you to make money, but also as part of the process you'll likely be able to reduce costs and inefficient practices, allowing you to maximise your profits!
Getting ISO accreditation
Many people are put off by the amount of paperwork that they perceive is required for ISO accreditation, but the truth is, there is much help out there, and Synergos Consultancy can help make the process of gaining ISO accreditation much easier than you thought! If you'd like to give your small business the best chance of success, and want to know more about how ISO accreditation can help, then why not call us on 01484 817 444 or email info@synergosconsultancy.co.uk – there's no better time to begin!