The family of ISO standards is vast, with some being specific to certain sectors and industries. ISO 17025: 2005 is one of those standards that relates to a specific sector within many industries – laboratories.
What does it cover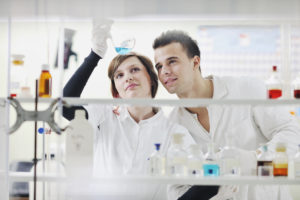 ISO 17025: 2005 is a set of requirements specific to testing and calibration laboratories and other testing facilities. Like many other sectors, proving that they have a quality system by which they operate is essential for creating a trusted reputation with their customers. This standard looks at both technical and management systems.
These two broad categories mean that the standard covers everything from test equipment to data sampling. It also sets out valid specifications to improve quality assurances within an organisation. This will have a beneficial impact on quality control. Topics covered also include testing and calibrating standard, non-standard and laboratory-developed methods too.
Benefits of ISO 17025:2005
There are many positives to achieving this standard. Although some would say it is a costly and time-consuming standard to achieve, those companies that have taken the plunge will vouch that this standard is more than just about compliance – it is the catalyst to a higher standard of product.
But there are other advantages and benefits such as:
Improves the image of your laboratory – the ISO family of accreditations and certificates is held in high regard by companies the world over. There is an appreciation of how complex they can be to achieve thus this standard should be proudly worn as a badge of honour – it will impress prospective clients.
Data quality – as a laboratory, your results are only as good as the data on which they are based. This ISO will continually improve the quality of data, and effectiveness, ensuring you are more efficient as a result.
Underpins other quality systems – this standard will help to bolster other important quality systems such as Good Manufacturing Practices (GMP) and Good Laboratory Practices (GLP)
Recognition – it will be an important tool by which others will measure you, including testing competence of your facility.
Marketing tool – like many other ISO standards, it is an effective marketing tool in a complex, competitive market place
Legal implications – when things do go wrong, it can also be a strand of defence in bolstering your data's integrity
Measures quality and capability – for your clients, their data is important and thus, understanding and appreciating that it is in the hands of experts – your hands – will be something that is gained with this important accreditation.
Worth the hassle?
Many companies and businesses will at some point in any standard process, question whether the time consumed will be 'worth it in the end'. Invariably, with ISO 17025:2005 standard it is.
Your laboratory will stand out above all others as having the abilities and technical know-how to offer a trusted laboratory service. Respected by all kinds of business and industries, from geological companies to the gas and oil sector, why take the plunge into ISO 17025:2005 with Synergos Consultancy to guide you. Simply contact us on 01484 817 444 or email info@synergosconsultancy.co.uk to find out just how easy it could be to gain an extremely well regarded standard.