Businesses across all sectors and industries will have varying priorities, but there is one that is common to them all – the need to control, reduce and manage their impact on the environment.
There are various means of doing this and completing ISO 14001: 2015 certification is one of them. It is a standard that takes into account all the facets and points of impact that a business may have in terms of how its activities impact on the environment. Internationally recognised, it's certainly something businesses should consider.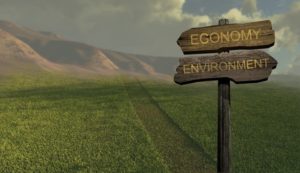 What is ISO 14001:2015?
ISO 14001:2015 is a certification that sets out the requirements for an environmental management standard.  Over 300,000 businesses globally have been issued with their ISO 14001:2015 certificates – and this number is set to carry on rising – across a variety of sectors too.
It is a popular standard for many reasons but a key component of its success is that it is seen as a key business tool in understanding their impact on the environment, as well as how to decrease impact and so on. Companies are now realising that there are both external and internal elements that impact on how well or little environmental impact measures can be.
Suitable across the board
Every business, through its day-to-day operations, will have an impact on the environment but until recent years, this has not always been taken seriously in all industries and sectors.
By gaining this certification, businesses are ensuring a long-term commitment to:
Leadership on environmental issues – Up to now, some sectors have not embraced environmental impact as a threat nor an opportunity for them to not only reduce or manage environmental impact. In order to do so, and also use it as a positive factor in winning more customers, leadership on the issue is essential.
Strategic direction – No company can afford to ignore environmental issues any longer, which is why this standard is popular across all industries, as well as all sizes of business.
Proactive initiatives – For many businesses, the standard helps them to address the need to be proactive in this field. Environmental initiatives can have an immediate impact.
Improved communication – This standard also helps to identify various weaknesses and areas for development within a business too. Many businesses go on to link this standard with other areas of their business, and improving communication is one of them.
Life-cycle awareness – Businesses have various points in production that impact on the environment but some of these have not been considered or recognised. ISO 14001:2015 forces business to carefully look at their business so as to recognise all environmental impacts.
Turning of age
The original environmental standard was created more than 20 years ago. At the time, the technical committee who developed the standard could only dream that one day, environmental awareness and responsibility could have advanced so far. This revised environmental standard is now the next step of this environmental 'dream'.
With over 121 experts involved in creating the new standard, the technical panel is convinced that it is a standard that will 'catch all'. If you're considering gaining this reputable standard for your business, then Synergos Consultancy can help. Simply contact us on 01484 817 444 or email info@synergosconsultancy.co.uk, and we'll be happy to advise on the application process and what your business needs to gain ISO 14001:2015.