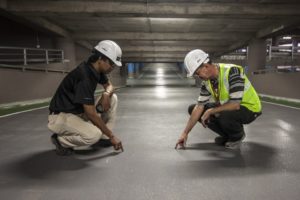 Health and safety are critical in any business and when new employees are taken on, it must be an important part of the induction process.
But it can be a 'dry' subject where we rely on 'common sense' and people's 'practical approach' to ensuring that what they do is safe, and that everything around them is safe. We assume that everyone sees the same hazards and can identify the same risks.
But we don't, and that's why these five tips for inducting new contractors in health and safety to maintain CHAS compliance are essential reading…
1. Be creative
If you can, leave the dull and long presentations on health and safety behind, opting for creative and practical methods of looking at the serious topic of health and safety.
From group work to handouts, to e-learning modules and audio-visual presentations, how we put the important information across and making it memorable is just as important as the topic itself.
2. Simplicity
Health and safety is often used as a barrier as to why something cannot be done. As a result, we have had for a long time, a reluctance to engage with it.
It is not a complex topic, even if it is important, and so maintaining simplicity around health and safety in the induction process is essential.
Too much content clutters the learning. Use fewer words, less clutter and fluff, and stick to the key points. Give people take away information for their use later on and make sure that your content is relevant to all contractors, from summer staff to permanent employees.
3. Jargon-busting
We use pieces of jargon every day and thus, we fall into the trap that we assume everyone knows what we are talking about.
Health and safety is not immune from jargon either. Talking about CHAS, COSHH and the like are only halfway effective if you don't explain what these acronyms and jargon actually mean.
4. Delivery
Inductions are delivered in many ways – there is no right or wrong – they can last for an hour or for days. They can be classroom-based inductions or they can be on-the-job-and-supervised- inductions.
Or, of course, they can be a combination of the above.
The importance of getting the right mix of induction activities, timing and processes lies with what the job role is, what the person is expected to do, where they will be working and so on.
Alter and modify delivery as is needed. Don't stick with the 'this worked last year' approach!
5. Review
Once you have completed the induction process with new contractors and they have started in their roles, ask them to review the process.
Alongside their feedback, ask yourself 'how do you think the induction process went?' 'What needs to change?' 'What will you try differently next time?'
We can become locked in a pattern of induction that could be easily labelled 'that will do'. By being inventive and creative, constantly reviewing the induction process and staying in step with ever-changing health and safety, the induction process is valuable and useful.
How can we help you?
Click here to download our NEW FREE eBook, informing you of the benefits of CHAS to your business.
If you're in need of assistance with any aspect of this accreditation here at Synergos we'd be delighted to help, call 01484 666160 or Email info@synergosconsultancy.co.uk and we'll be happy to talk it over with you.