In the world of export and import, operational efficiency is essential. Not only will your trade partners expect flawless performance time after time, it is also a necessity to stay ahead of your competitors.
Reaping the benefits of an optimised supply chain will be yours, if you can improve supply chain efficiency and security. Here are five ways you could look to do this… 
1. AEO status
Security of a supply chain has come to the fore in recent years with an increase in terrorist activity. This however, is not the only threat. War, conflict and theft all have an impact on supply chain security, leading to some seaports and airports no longer being as 'safe' as they were.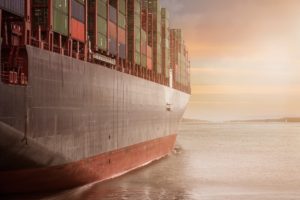 This leads to changes in how goods are moved and where they pass through on their journey. Authorised Economic Operator (AEO) status is proof to trade partners all over the globe that you take safety and security seriously, and can make changes as and when needed. It is a trademark of a company that are stable, and worth doing business with.
2. Real-time tracking
We live in a technological age and this can make for more robust supply chain monitoring and security. At its simplest, scanning bar codes as items or cargo reach destinations and leave it has been a technology long used to monitor the flow the supply chain.
Global Positioning Systems (GPS) can take the pulse of the chain, supplying real time information where everything is.
3. Improve logistical communication between suppliers
A threat to the security of a supply chain is lack of communication. Not knowing where cargo is at, who is doing what and what it cannot it be completed are reasons that can be lost in a myriad of paperwork. Improving and facilitating communication between suppliers, especially in terms of real-time inventory information, is also key to improving security.
4. Cloud-based monitoring systems
Cloud Services have revolutionised many aspects of business and like teal time monitoring of the supply chain, cloud based platforms can improve the security of the supply chain.
The main advantage of cloud-based platforms is that they can be accessed, used and understood by a variety of people and companies from across the globe.
5. Training
The supply chain can be complex or deceptively simple. There are also times when the various components and stages of a supply chain need to be brought together at certain times. Failure to do so leads to increased costs, inefficiency and possibly compromise security too.
All too often, we assume that once an order has left our own warehouse or depot; that is the end of our responsibility. But when does our responsibility end? Training is a key component of a security supply chain, including the use of real-time reporting and GPS tracking solutions.
AEO status also not compulsory, it is a shining beacon for your business in a crowded market place.
How can we help you?
If you're in need of assistance with any aspect of certification here at Synergos we'd be delighted to help. Whether you have questions about the path to certification or are looking for advise and support to maintain an existing standard call 01484 817 444 or Email info@synergosconsultancy.co.uk and we'll be happy to talk it over with you.