There are some important changes for British freight forwarders coming in 2016, not least the amending of the Safety of Life at Sea Convention (SOLAS) regulations.
SOLAS Amendments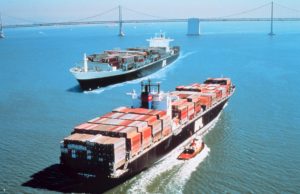 From July 1, 2016 it will be a condition for loading of a packed container onto a ship for export, that the container is weighed. The shipper will be responsible for the verification of the packed container's weight; after this date, it will be a violation of SOLAS to load a packed container onto a ship or vessel if the vessel operator or marine terminal operator do not have a verified container weight.
However, these amended SOLAR regulations are not the only thing that is changing. The British International Freight Association (BIFA) also note that the Union Customs Code (UCC) being introduced on May 1 is something else that a forward agency will need to be prepared for.
UCC Changes
The UCC will mean a number of changes to how goods can cross EU border with some transitional arrangements remaining in place until 2020. These UCC changes combined with the amended SOLAS regulations mean it is more important for forwarders to acquire Authorised Economic Operator (AEO) status, something that Synergos Consultancy can help with.
The benefits of AEO status
BIFA, along with many other maritime agencies, have long believed that acquiring AEO status has been about setting a forwarding agency business apart from their competition. The process of becoming AEO certified means that a shipping freight forwarding agent has the opportunity to analyse their processes, as well as examining their current standards. It also highlights corporate or organisational weaknesses to which can be rectified to create a more streamlined, responsive agency.
It also sends a clear message to customers too; they can be certain and trust that their freight forwarding partner has passed tight benchmarks and standards.
The 'new normal'
The standards set by AEO do, according to BIFA, set a company apart, placing them ahead of the curve when it comes to the shake-up in multinational freight forwarding as the maritime freight industry prepares for the new normal.
Multinational shippers are increasingly demanding AEO certification before they do business with a freight forwarding agency thus, it makes sense to seek AEO accreditation. It is not mandatory to become an AEO certified freight forwarding agency but with BIFA convinced that it will benefit all freight companies, it makes sense to explore the options further.
How Synergos Consultancy can help
For freight forwarding agents, the road to AEO can be littered with potential pitfalls. Not navigating these gaps successfully can lead to a stalling process or, worse still, the end of the accreditation process.
Working with an experienced company such as Synergos Consultancy means that not only will these pitfalls be identified but successfully negotiated too, so why not get ahead of the pack and show customers that your company surpasses the latest SOLAR amendments and meets UCC regulations too. Contact Synergos Consultancy on 01484 817 444 or email info@synergosconsultancy.co.uk to talk about how we can help your business with AEO applications.