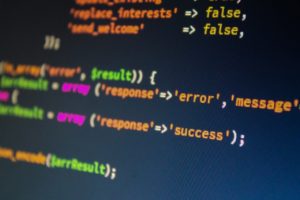 Information security – as a small business, you know it is essential. You have watched with horror as larger companies fight off hackers or in some cases, manage the damage done to their business and reputation.
You shake your head and yet as a small business owner, you do nothing. Why? You assume that because you are small business, no one would possibly be interested in you.
But hackers and ransomware attacks hit businesses of ALL sizes. As a small business owner, you need to act. Embarrassment comes not from being attacked or hacked, but from complacency.
But, with budgets tight and time limited, what are the real benefits of ISO 27001 to a small business like yours?
1 Your business is DATA REGULATION COMPLIANT
As a small business, there are responsibilities on you, as there are on big businesses, to keep people's information safe.
There are various regulations regarding data protection, privacy and IT governance. ISO 27001 can bring the methodology that sees your small business comply with these regulations but more importantly, in the most efficient way.
2 It gives you the MARKETING EDGE
It is a competitive market place in which you operate. And then, on top, you have tough economic conditions, from recession to austerity measures.
To maintain your business, you need to work hard. To grow it takes a constant and phenomenal amount of hard work. Anything that gives your business the edge is worth investing in.
ISO 27001 shows customers, trade partners, stakeholders and your competitors that you can organise and protect important information and data. And, you have ticked the box of compliancy as well. The benefits of ISO 27001 are starting to build.
3 Keep control of EXPENSES
Your bottom line needs protecting. And that means, as well as increasing custom you need to keep an eye on overheads.
Security incidents do happen. And when they do, no matter how big or small, they cost you money to deal with. It means spending money on retrieving information. It means spending money on correcting your software and so on. It may mean buying new IT hardware.
Prevention is better than cure and cheaper in the long run too. By protecting your business and its data now, with streamlined and efficient IT systems and ISO 27001, you will spend less money on 'firefighting' problems.
4 STREAMLINES your business
As a small business, you will have experienced growth, some of which may have happened quickly and sharply. When this happens, it can leave gaps in your business. Who is responsible for making decisions relating to key aspects of your business? Unfortunately, it is not until 'something happens' or 'something goes wrong' that we realise the vulnerabilities of and in our business.
ISO 27001 helps you to streamline and improve processes. It nails down the answers to key questions and highlights who is responsible for what.
How can we help you?
Click here to download our new eBook, which will give you an overview of the ISO standards and the FAQs that will help you understand ISO better.
If you're in need of assistance with any aspect of certification, here at Synergos we'd be delighted to help. Whether you have questions about the path to certification or are looking for advice and support to maintain an existing standard call 01484 817 444 or Email info@synergosconsultancy.co.uk and we'll be happy to talk it over with you.