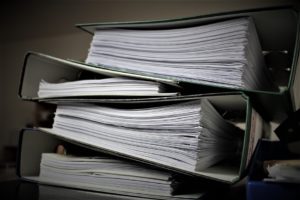 It is, without a doubt, the bane of most business owners' days: the constant filling of forms, either on paper or online. Paperwork and forms, although necessary and needed, take time and energy to complete.
And there is nothing worse than when you have completed one form, that there is another to fill in… and another… only to find that the information is effectively duplicated from one to another.
Imagine, however, if you could complete one set of forms, deal with one over-arching cluster of paperwork that prevented this from happening, in the field of health and safety at least. Wouldn't that be great?
This is exactly what you get with CHAS! Even though there is paperwork to complete, the results of being CHAS accredited or certified is much better than duplicating paperwork of pre-qualification questionnaires and tenders.
Prepare your paperwork
There is a certain amount of documentation and paperwork required in the process of gaining CHAS accreditation. But – here's the good news – in most cases, it is merely about collecting what you already have.
For example, it is about collating all health and safety policies currently in place, along with documents that are part of this, such as an example of 'accident forms' completed and so on. By law, if you employ more than five people, you need to keep certain written records – and this is best practice whether you have employees or not – and thus, you are not re-inventing the wheel. You are showing you comply with current regulations.
Use these documents
It has been witnessed many times: pristine health and safety documents, all kept in a folder for reference. But with CHAS, you need to show that you implement and use these documents in your business and on site.
You need to produce records that show;
Site inductions for staff
Training in health and safety for staff and subcontractors
Daily bulletins should the conditions on site change
Evidence that when a health and safety issue has been identified, that it has been acted upon and the hazard and risk minimised or eradicated completely
Completed accident forms if there has been any accidents or issues.
Reporting process
Risk assessments
Monitoring and review documents
Minutes of meetings that relate to health and safety
Records of any investigations
And so forth…
A lot of paperwork?
As you complete the CHAS accreditation process, it can feel like an uphill struggle producing paperwork, forms, policies and other documents. It can be a little time consuming, as well as sucking other resources too.
But, with CHAS, the primary aim is clear: as a business you should only need to do this once. When all this important information is collected and verified, it allows you to sport the CHAS accreditation logo.
When you complete PQQs or tender for work, you can quickly and ably verify that your business has CHAS accreditation and that speaks volumes: it shows you work within current regulations, making winning work much easier and a little less stressful.
How can we help you?
Click here to download our NEW FREE eBook, informing you of the benefits of CHAS to your business.
If you're in need of assistance with any aspect of this accreditation here at Synergos we'd be delighted to help, call 01484 817 444 or Email info@synergosconsultancy.co.uk and we'll be happy to talk it over with you.