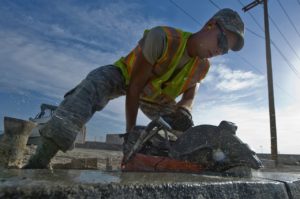 Health and safety within the construction industry is paramount, more so because of the potential for accidents to occur on an almost second-by-second basis. The Contractors Health and Safety Assessment Scheme (CHAS) is 'a visible and credible leader in Health and Safety management'. Being CHAS accredited shows that you are actively risk assessing to safeguard both employees and contractors, as well as your business.
As such, CHAS can also be useful in defining roles and responsibilities of contractors when measured against the Construction (Design and Management) Regulations 2015 (CDM 2015).
Definition of 'Contractor'
A contractor is defined in CDM 2015 as anyone who is employs or engages workers or manages construction work.
This also includes sub-contractors as well as any individual, self-employed workers that carry out, manage or control construction work.
In order to do this, a contractor must have the skills, knowledge, experience and organisational capability to carry out work safely, and without risk to health.
It must be recognised by contractors that they and workers under their control, employed or self-employed, are at risk of injury and ill health in construction work. Therefore, they play a vital role in planning, managing and monitoring the work to ensure hazards are identified and risks controlled.
What a Contractor MUST Do
To manage risks, a contractor MUST:
Before work starts, make the client aware of 'client duties' under CDM 2015.
Plan, manage and monitor all work carried out by them and their workers. This will include considering all risks to everyone, including the public and the measures needed to protect them.
Check that all workers, sub-contractors etc. have the necessary skills, experience, knowledge and training to carry out the work or, be in the process of doing so.
Ensure that all workers have a site-specific induction. It may be that the principal contractor takes on this role.
Ensure appropriate supervision, information and instructions are provided to all their workers whilst on site.
Provide suitable welfare facilities for workers under their control and maintain these facilities through the life of the project and whilst their workers are on site.
On projects where there is more than one contractor, there is an expectation that contractors will coordinate their work, comply with instructions and directions from the principal contractor and comply with the parts of the construction plans that are relevant to their work.
Contractors don't just work for big business, domestic building projects are also subject to these health and safety regulations.
Therefore, a builder acting as lead contractor of an extension project as a domestic property is still expected to deliver a high level of health and safety to their own workers, and any other individuals they sub-contract to complete work, such as a self-employed electrician.
How CHAS Helps
CHAS accreditation dovetails with these regulations and show potential clients and customers you have the ability, understanding and knowledge to deliver a construction project that is safe.
How can we help you?
Click here to download our NEW FREE eBook, informing you of the benefits of CHAS to your business.
If you're in need of assistance with any aspect of certification here at Synergos we'd be delighted to help. Whether you have questions about the path to certification or are looking for advice and support to maintain an existing standard call 01484 817 444 or Email info@synergosconsultancy.co.uk and we'll be happy to talk it over with you.