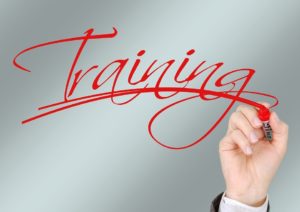 The Health and Safety Executive (HSE) states that;
The Health and Safety at Work Act 1974 requires you, the employer, to provide whatever information, instruction, training and supervision is necessary to ensure that, as far as is reasonably practicable, the health and safety at work of your employees is assured.
Essentially, health and safety is a legal requirement but also one that stands on both moral and ethical grounds. The days of people going to work to possibly not come home should be long gone and ill-health in later years as a result of being exposed to harmful chemicals etc. should also be a thing of the past.
And yet, in the 21st Century, workers can still suffer from poor health as a result of work. Fatalities still happen – 144 fatalities at work, in fact, during the year 2017/18.
Planning health and safety training
The importance of appropriate health and safety training should not be underestimated. It helps to;
Equip employees with the ability to identify hazards and adopt safe working practices
Avoid the pain, anguish and financial costs of an accident at work
Foster a positive attitude and culture around health and safety at work
Improve health and safety management
Meet legal duties placed on employers relating to health and safety of employees, contractors and the public
Needs analysis
From First Aid to Working at Height training, there are specific areas of health and safety that need to be covered, although the topics will vary from one business to another. Rather than starting with the content of health and safety training, a needs analysis should be the first step.
Whilst a blanket approach can work, when resources are limited, a more pointed approach can be beneficial. Essentially, a needs analysis will look at the key roles in an organisation, creating a prioritised list of health and safety training needs.
You may want to consider;
Directors
Senior managers
Middle managers
Team leaders
Key functional roles such as HR, facilities, IT, finance staff etc.
Supervisors, especially those involved with younger members of the workforce
Key skilled roles such as designers, maintenance staff, drivers etc.
Safety representatives
Trainees
New starts
Sub-contractors
Carrying out health and safety training
It must be carried out during work hours and must also be paid for by the employer. Aside from specific courses, 'general' health and safety training may include;
RISK ASSESSMENT – enabling employees to identify hazards and the measures needed to control risks. Responding to health and safety hazards and risks may be partly covered in policies and procedures but are only of use if staff are informed and trained in what these are.
POLICIES & PROCEDURES – every business with more than five employees must have a health and safety policy that clearly sets out a number of factors.
SUITABLE TRAINING – it isn't just about content but about being accessible to all employees. As an employer, you have a duty to take into account capabilities and experience or workers so that training is pitched at the correct level.
WHEN – as an employer, you need to be aware of ongoing training needs too, such as new starters or workers moving from one department to another.
Health and safety training works best when it is bespoke to your people and your organisation. What training do you and your staff need to stay safe and well at work?
How can we help you?
If you are in need of assistance with any aspect of Health and Safety management, here at Synergos we'd be delighted to help. Whether you have questions or are looking for advice and support to maintain standards, call 01484 666160 or Email info@synergosconsultancy.co.uk and we'll be happy to talk it over with you.