It's easy to think, if you work in an office, that you're relatively safe from any injury or health risks at work. However, Health and Safety Policies exist for a reason, and you need to make sure you're taking care of your staff and protecting them from any risks, even in a relatively safe office environment. Here are some of the most common mistakes that office-based businesses make when it comes to Health and Safety, and a few ways to avoid making them yourself.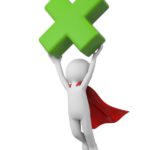 Not conducting risk assessments regularly
In an office, it's usually the case that office workers sit down for a good portion of the day, usually typing. Workstation risk assessments are vital to the continuing good health of your company's employees and it's essential to regularly review the original workstation risk assessments as back problems from incorrect sitting positions, and RSI from typing can be avoided in some cases if they are caught early enough. In addition to this, employees may require further risk assessments if they are suffering from some form of injury, whether this occurred inside or outside of the work environment, or if they become pregnant. Schedule risk assessments regularly, and ask your staff to report any injuries/illnesses/conditions that might affect their workstation risk assessment so you can keep your employees comfortable and productive.
Not ensuring breaks are taken.
If you're working in a busy office, chances are you'll be sitting down for a good portion of the day, staring at your computer screen. Taking regular breaks from screen use is a legal requirement and you must ensure that your employees adhere to this. It will also ensure that your staff are kept refreshed and able to concentrate when you get back to their screens.  You don't have to implement break times (although you could cover desk exercise routines in initial training) – you can give staff a variety of tasks to do that are not screen related (such as filing, photocopying etc.) instead.
Forgetting the electrics
Although PAT testing is not a legal requirement, what must be taken into consideration is your requirement to ensure all electronic equipment doesn't pose a threat to your employees. Many companies choose to go for PAT testing, simply because it is a professional service, and they can then work worry free. However, reporting any electrical problems as they happen is also vital, so ensure that your employees know to let you know ASAP if there are any issues. In addition to this, creating a working manual (or set of instructions) for those more complicated machines, such as laminators, and guillotines is vital to protect your employees from further risk.
Not checking the First Aid Box
It is important to have fully stocked First Aid boxes in the office, but in many cases, if you did a spot check on an office, you'd find the stock slightly depleted. Paper cuts happen often in offices and plasters are usually the first things to go from the box. Make sure you regularly check your stock, and indeed, if your business is growing, make sure you have enough First Aid boxes to cover the staff that you have taken on.
Of course it's not easy to keep an eye on your Health and Safety obligations, particularly if you're a growing business, so Synergos are here to help. We can offer your Health and Safety support that will allow you to get on with running your business, safe in the knowledge that you and your staff are protected as much as you should be. If you'd like to know more, simply contact us on 01484 817 444 or email info@synergosconsultancy.co.uk