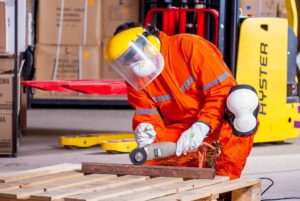 As a small business, there are many things that you need to do to ensure that your business is a safe place to work for everyone. Health and safety is a big issue for any business to tackle so what hacks can we offer?
Prevention is always better than cure
Health and safety is not a tool that you should use to spoil 'the fun' or as an excuse for something not to happen. It is, however, a prime tool for preventing accidents and ill-health.
Changing attitudes around health and safety is a hack that will change how it is perceived and used in the workplace. The importance of health and safety is in the prevention of issues and looking after well-being.
Rather than 'meeting health and safety', change the question to 'how can we make this safer/better?'
Small things cause just as much of a problem…
Health and safety is a large umbrella term that covers everything from preventing injury to the ergonomics of the workplace but sometimes, it is the 'small' things for a small business that can have a significant impact.
Illness amongst staff for example, means that your small team can be struck down with anything from the flu to common colds. Lack of staff is difficult for a small business to shoulder – staff shortages are not easily covered.
If you have illness in the office, encourage staff to stay home until they are well enough to come back to work. This prevents the spread of illness amongst your staff group and with extra care with cleaning and hygiene, your staff team should remain well.
Stress is still a factor
Up to half of the workforce across the UK 'admit' to feeling stressed in their job. This leads to all kinds of issues that as a business you need to grasp and attempt to solve.
As a small business, you are in a great position to set the tone when it comes to busting stress from the workplace;
Strong staff base – a strong team is one that is connected and engaged at all levels of the business. From team-building to rewards, there are many ways you can counter stress in a small business.
Communication – when someone is feeling anxious, uncertain or that the level of stress is now so negative they feel unable to do their job, the channels of communication can often be closed or hard to access. Essentially, you want staff to reach out before they are anywhere near this point. Make sure the channels of communication are clear and that when stress or other mental health issues start to build, staff are encouraged and not penalised for seeking help.
Getting the ergonomics out
As a small business, spending profit on furniture may not be at the top of your priority list but with 31 million working days lost to bad backs, aches and pains etc. it may be worth your small business spending money on quality items such as ergonomically designed chairs for office staff, as well as essential items for other staff.
Health and safety is about well-being, both physical and emotional. A small business is in a prime position to get the most from it for its smaller workforce.
How can we help you?
If you are in need of assistance with any aspect of Health and Safety management, here at Synergos we'd be delighted to help. Whether you have questions or are looking for advice and support to maintain standards, call 01484 666160 or Email info@synergosconsultancy.co.uk and we'll be happy to talk it over with you.