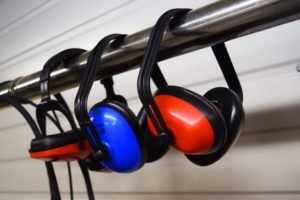 Health and safety is often a phrase that invites derision, an excuse, many feel, for things not to happen, such as 'banning' the traditional game of conkers in the playground or not allowing 'untrained personnel to use ladders'.
But derision and flippancy are stopping the real picture of what health and safety achieves in the workplace. For centuries, there was no guarantee that a worker would survive their shift alive and unscathed – can you imagine what it must have been like to live and work like this?
Times have thankfully changed but even now, there is much work to be done. With the New Year on the doorstep, what should your considerations be when it comes to health and safety at work?
Work-related illnesses
There are still illnesses and diseases caused by work-related activities and tasks. From skeletal issues to lung diseases, there is still need in the modern age to protect workers from health issues arising from work.
The way we work has changed, with some workers being at risk of repetitive strain injury, also known as RSI. Stress, however, is the biggest health hurdle that workers and employers need to manage in the modern workplace.
As well as schemes such as CHAS, an independent internal audit looking at key issues relating to health and safety can provide the firm foundation you need to make changes. It is also a means by which health and safety policies and processes are examined, and not the behaviours of individuals.
Work-related accidents
There were over 70,000 non-fatal injuries reported by employers in 2016/17. Other non-fatal injuries reported by workers, such as cut fingers or slips and falls, were 609,000 for the same year.
What this means is that although great strides have been taken to reduce fatalities at work, accidents can and still do happen.
Health and safety is not a fixed process. Although it is anchored in good practice, how firms and organisations need to respond to changes in hazards and risks at work sites needs to be fluid. How responsive are your health and safety policy and processes? When was the last time it was reviewed and measured against the current reality of your business?
Save money with less absenteeism
Clearly, keeping people safe and injury-free is your priority but there is one aspect that also must not be ignored: how expensive it is to replace staff who are absent as a result of injury or ill-health.
As well as reducing absenteeism, a strong and reactive health and safety process will also make your business stand out as a firm that values its people. A soaring reputation means that when you need to, you have the pick of talent for new roles and vacancies.
CHAS accreditation
CHAS is a big step in the right direction in terms of health and safety, especially within construction and related industries. It shows your customers and competitors – and your staff! – that you take health and safety seriously and, that as a company, you are up to date with all safety and health-related issues.
What changes will you make to health and safety in the coming year?
How can we help you?
Click here to download our NEW FREE eBook, informing you of the benefits of CHAS to your business.
If you're in need of assistance with any aspect of this accreditation here at Synergos we'd be delighted to help, call 01484 817 444 or Email info@synergosconsultancy.co.uk and we'll be happy to talk it over with you.