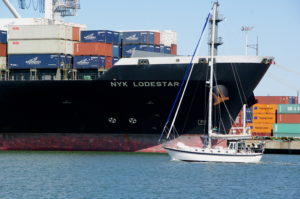 The latest European Customs Code is due to apply from May this year and freight forwarders in particular are expressing concerns about how this might affect them, according to an article in Air Cargo World. This new code is intended to streamline the customs clearance process with the introduction of electronic data exchange to aid transparency and user-friendliness. The electronic system should facilitate improved alignment and data flow between customs authorities. However there have been some potential pitfalls flagged up.
What are the issues?
The first concern comes in the form of potential added costs applicable to forwarders particularly in relation to mandatory financial guarantees pertaining to clearance throughout the EU. In the UK the present situation is that these financial guarantees aren't needed so this is a huge worry for British freight forwarders. But those who already pay financial guarantees will be worried by the advice given in December by Austria's Chamber of Commerce that the code's 'reference amount' for 'export bundles processed without a declared amount' will increase by €3000 to €10000 per clearance.
AEO – Yes please!
Here comes the good news though – in the form of the AEO (Authorised Economic Operator scheme). The scheme offers certification for freight forwarders as 'a party involved in the international movement of goods in whatever function that has been approved by or on behalf of a national Customs administration as complying with WCO or equivalent supply chain standards.' Forwarders will be able to get a reduction, or possibly a waiver of the financial guarantee obligation if they sign up to the AEO scheme. There are also other benefits promised by the scheme. Companies with AEO certification can benefit from a simplified process when it comes to declarations and self-assessment. But most importantly described as a "significant benefit" by Uwe Glaser, CEO of Cargomind of Vienna, is for AEOs to have the ability to process clearances from one single place that can cover multiple locations, thus negating the need to redo the investment and work across branches, which must represent a significant cost and time saving for some.
Glaser has questioned how much advantage the new European scheme has over the American export bond system and if the AEO scheme is better than an ISO 9002 certification. In terms of timescales involved, AEO applicants must demonstrate at least 3 years experience in customs clearance and the process can take around 6 months, pushing the application deadline beyond May.
AEO isn't going anywhere
It is clear that the authorities are engaged in a push for maximum uptake of the AEO scheme in order to standardise the freight industry and the rush to implement it is a concern for TIACA (The International Air Cargo Association). They worry about the effect on businesses importing and exporting within the EU. TIACA General Secretary Doug Brittin warns of the financial guarantee obligation for temporary storage usage and specifically that this can only be waived by authorisation from EU members. The timing of the new regime implementation means that the necessary processes will not be in place to allow forwarders to make application for a waiver, or a new guarantee, in time and it's clear than businesses having applied for AEO earlier are in a better position.
If you're looking at AEO certification, then Synergos Consultancy can help. Our consultants can take you through the process from start to finish. Simply contact us on 01484 817 444 or email info@synergosconsultancy.co.uk to find out more.