ISO 14000, as many of you reading this will know, is a family of standards that relate to environmental management. Organisations, agencies and businesses follow these standards for three key reasons: to minimise any negative impact on the environment, to comply with various laws and regulations and to continually strive to improve on both these aspects.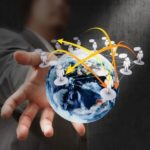 The latest update to these standards is the new ISO 14001. Replacing a standard that was over a decade old, this new variation promises several key changes that be categorised into five areas: leadership, strategic context, interested party analysis and communication, risk & opportunities and finally, lifecycle perspective. These changes are being led by key industry players and are designed with increasing competitive advantage, as well as building resilience to potential changes in the future. Whilst we've given an overview of what's changed in general, a key change in ISO 14001:2015 is the category 'interested party analysis and communication', otherwise known as consultation with, and listening to, stakeholders. Here we look at why establishing good communication with stakeholders is so important to ISO 14001.
Why change?
The change was needed for two reasons. Firstly, previous standards relating to environmental impact tended to be inward looking; not taking account of the local community and environment, and the groups within it meant that some of the standard were ineffectual or simply paid lip service with no real gain. Secondly, over the last decade, customer expectations have changed. People no longer expect to be left out, and are more aware of and involved in environmental management as a whole.
Who are your stakeholders?
Stakeholders are interested parties who could be affected by your decision or organisational activities. The standards go on to suggest how you would identify people, groups and agencies:
People to whom you have responsibilities now, and possibly in the future
People who may be influenced by your organisation as it strives to meets its goals
People who depend on your organisation e.g. staff, customers, suppliers
People that you represent or are trusted to represent in the wider sphere
And those people who interact with the organisation most
How to consult and interact
The standard goes on to suggest that consulting with stakeholders is not a one-off exercise but a continual process. It should also be done in a way that brings value to the process. There are many different tools to use, including workshops as well as the use of software or other electronic means. The key point is that an organisation should be collecting data and information that is actionable. Your stakeholders or interested parties may say one thing and yet, environmental compliance regulations will tell you that you must do another, and this is where this new environmental management standard makes a difference. Communication is key, and this flow of information between groups has in the past, been lacking.
Making stakeholders aware of compliance limitations is key to moving forward, and making sure that your company has minimal adverse environmental impact from its activities and operations.
If you're interested in the changing requirements brought about by ISO 14001:2015, and want to know how you can better comply, or you're looking for ISO 14001:2015 certification for the first time, then why not speak to our friendly consultants, who can help you through these requirements with ease. Simply call 01484 817 444 or email info@synergosconsultancy.co.uk to find out more.