When you have achieved most of your organisational goals do you strive for more? This is the question managers should ask themselves when looking to take their business to the next level. Many companies that perform well in many different industries endeavour for continual improvement and rarely get complacent in the success of previous years or periods – their managers cultivate a culture of continual improvement across departments and the entire organisation. Although you may think that this is something that can only be part of large businesses, small and medium sized companies who take on an ethos of continual improvement can take advantage of the benefits that come with constantly reviewing their operation to find new trends, improve their systems and processes and drive their business further forward.
Leading by example
A culture of continual improvement should be embedded into the company by the top management and then trickle down to the employees. As such, an employer should aim to cultivate an ethos of continual improvement into how managers of various departments can support and lead their employees. This requires a lot of open discussions between staff and managers to ensure every activity is in line with the organisations goals and objectives. The primary goal should be "work smarter not harder" for quality results. Following below are just a few examples of how management can ensure all staff are working towards the same goals: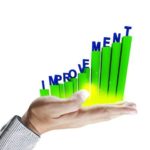 Employee Improvement
Continual improvement is also realised by putting in place continuous development plans for individuals and the entire organisation. As such, formal training through workshops and seminars as well as mentoring programs should be considered. Staff that are able to better themselves through their employment are likely to work harder and be more loyal to the company, so the time taken to ensure each employee has a development plan will reap benefits in the long run.
Communication is key
As earlier highlighted, managers should maintain open channels of communication with their employees if an ethos of continual improvement is to succeed. Having regular meetings is not necessary if you're a small business though, and simply having an open door policy should enable employees to air any suggestions or ideas to improve the systems and processes within a business.
Formal continuous improvement plans
There are, however, a variety of benefits for a business that wants to formalise their plans to offer a quality service and continually improve their business. Accreditations such as ISO can not only improve processes and systems within a business, but can also attract new customers, as they will have more confidence in the company in question. This will take some work to put in place, and regular audits will be needed but the benefits are wide ranging, and there is help if you need it.
Getting help to improve your business
Here at Synergos, we're able to put in place systems and processes to enable your business to thrive, whether that's as part of a formal accreditation such as ISO, or as part of a less formal quality plan to offer your business the means to continually improve what you do.
Interested? Why not give us a call on 01484 817 444 or email info@synergosconsultancy.co.uk for more information!