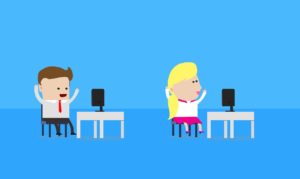 As an employer, there are many responsibilities that rest on your shoulders. But your company would not function as well as it does, nor grow and constantly evolve, if it wasn't for your most valuable assets – your people.
You want to recruit and retain top talent because your business will have the edge over competitors. But how do you do that? There are physical assets to drawing top talent – providing a bright, modern and appropriate working environment is one – but 'attitude' is another. Creating a business with shared beliefs, goals and values is another.
This utopia is a difficult place to reach but, as research and experts suggest, ISO standards have their role to play in creating a happier workplace. But which standard should you consider? And what impact will they have on your employees?
Environmental responsibilities
Every single one of us must take steps to limit and decrease our impact on the planet. But whilst many of us have taken great strides in this, there has, for a long time, been growing concerns about companies and their environmental impact. However, there are many companies who are taking their environmental responsibilities seriously, and not just from industries that traditionally have had a negative impact on the environment.
For employees, working for a company or business that boasts ISO 14001 Environmental Management Systems accolade, is a sure-fire winner. As a standard, this is one of the most progressive, pushing the boundaries of how companies lessen their impact on the planet across their entire business structure.
For some people, this will be near the top of their list and understanding that their employer shares their concerns and forward-thinking on environmental issues means they work for a company that shares their values and beliefs.
Vision, values, beliefs and quality
ISO 9001:2015 is the flagship standard for quality management systems. But it is more than just about producing the best possible goods or providing the best possible services.
It is about setting out and communicating the core values and beliefs of the business. Why is quality so important? What is the process to reach these standards and to push them further?
Invariably, the answer to both questions is people. Unless your core staff team understand and prescribe to the values and beliefs of the company, only a certain amount of progress will be made.
For your business to grow, positive change needs to happen and this means including people in decisions, listening to them, encouraging their contributions in making positive changes.
How many businesses can say they do that? Staff teams that are valued and listened to are happier staff teams. With ISO 9001:2015 accreditation, a company has shown its competitors, its customers, its current staff team and potential employees that it is proactive in making the workplace better, happier, positive and more productive.
How can we help you?
Click here to download our new eBook, which will give you an overview of the ISO standards and the FAQs that will help you understand ISO better.
If you're in need of assistance with any aspect of certification, here at Synergos we'd be delighted to help. Whether you have questions about the path to certification or are looking for advice and support to maintain an existing standard call 01484 817 444 or Email info@synergosconsultancy.co.uk and we'll be happy to talk it over with you.